When I saw this meal for the first time, I was obsessed by the beauty of it. When I knew more about what it was I was obsessed about everything. What a fantastic dish. Simple, tasty and healthy. It only takes a couple of minutes to create an unbelievable culinary experience. Jean-Felix his not a huge fan of plain yogurt so to please him, I added just a little bit of honey in his part! It's all it took to make him enjoy that meal as much as I did … and you know what? It was really good. I think maybe next time I will put some in the entire recipe. HA-HA-HA
Waiting for my dream to visit Turkey to coming true, this is one of my new favourite meals. Who knows… Maybe I will have Turkish eggs in Istanbul this year…
2 persons
INGREDIENTS:
4 large fresh eggs
300 gr plain Greek yogurt room temperature
1 clove garlic finely chopped
1 tbsp olive oil
1/4 cup unsalted butter
1 tsp Aleppo pepper
1 tbsp fresh Dill chopped and more for topping
1/2 tsp fine sea salt
Parsley for topping
White vinegar for the poached eggs
PREPARATION:
In a medium bowl, mix the yogurt, garlic, olive oil, fine sea salt and Dill. Reserve. If your yogurt is cold, you can warm it a bit in a bain-marie.
Break one egg at the time in a fine mesh metal strainer. This will allow the most watery portion of the egg white to drip down. Once this is done, put the eggs in separate small bowls. It's my new trick. Like this you won't have all the foam and split pieces floating in the water. Egg whites contain two different parts and by fine straining it, you just keep the part that will make the perfect poached eggs.
In a medium sauce pan, heat the water until small bubbles are rising. Don't boil the water. Add a drop of white vinegar. Stir the water to create a little whirlpool. Put one egg at the time in the middle of the whirlpool.
Cook about 3 minutes, until the egg white is set. Don't over cook.
Remove the eggs with a slotted spoon.
Meanwhile, in a small skillet with a thick bottom, melt the butter and cook at medium-low until you get a light-brown hue. At one point, you will get some deposit in the bottom of the skillet. This is normal but be careful not to burn those.
Using a fine mesh metal strainer, pour the brown butter in a small bowl. Add the Aleppo pepper.
Separate the yogurt mixture in two plates and drop two eggs in each plate.
Pour the brown butter with the Aleppo pepper over the eggs and yogurt.
Add fresh dill and fresh parsley to garnish.
Bon appétit!
Love you!!!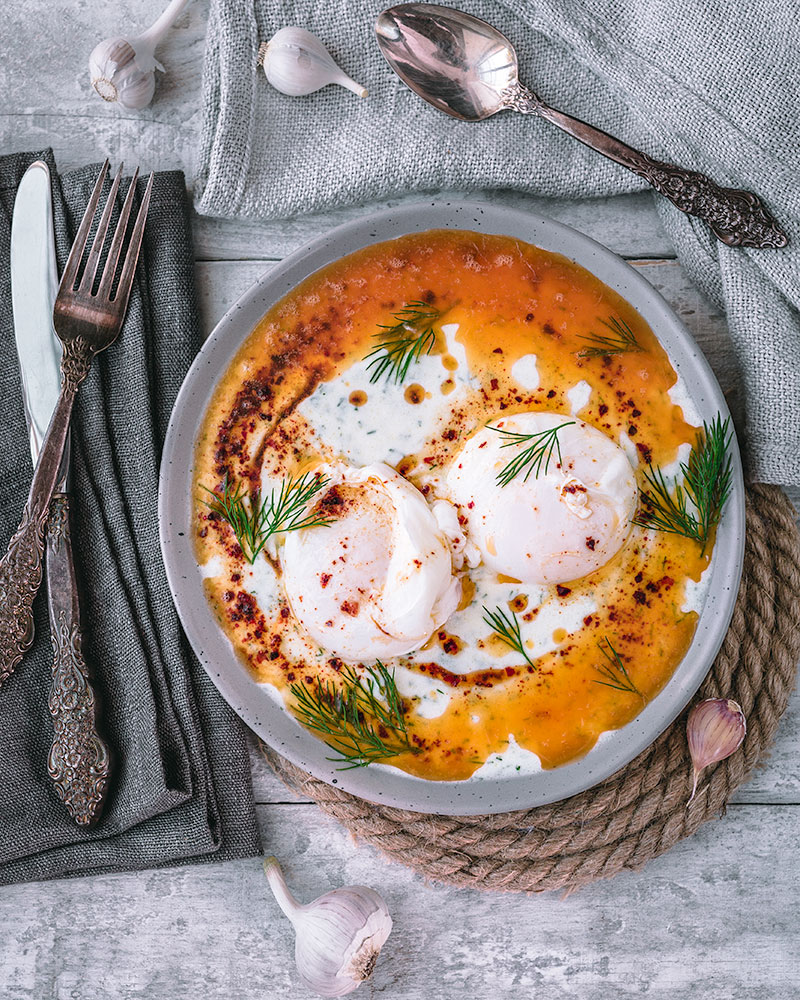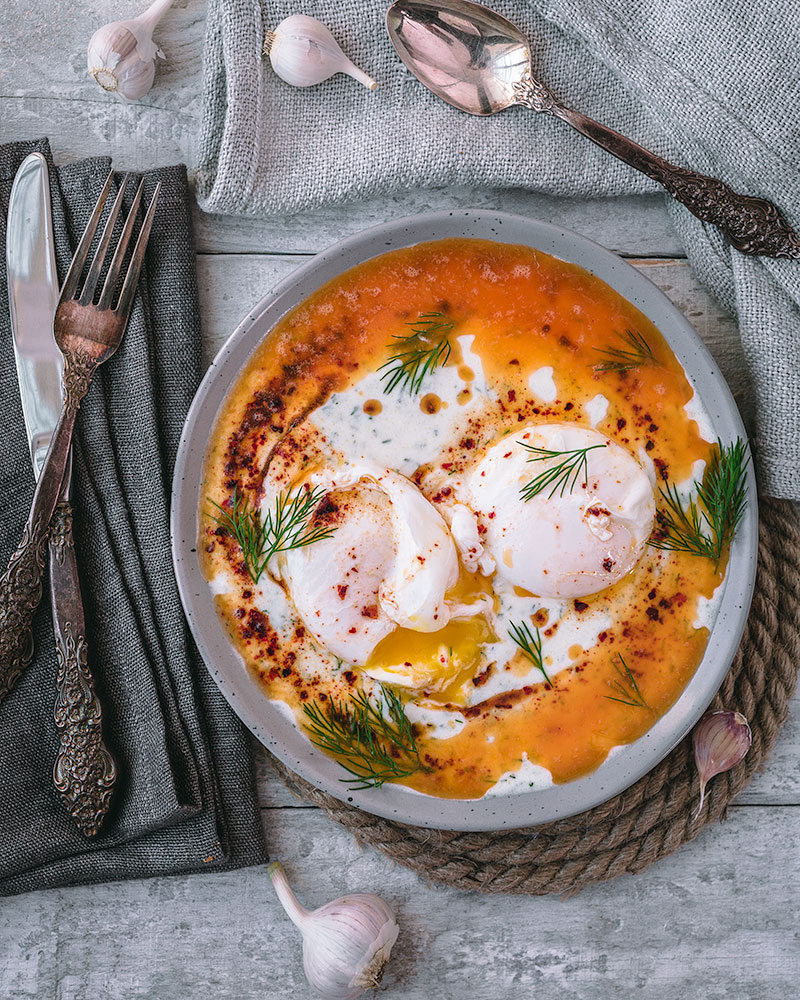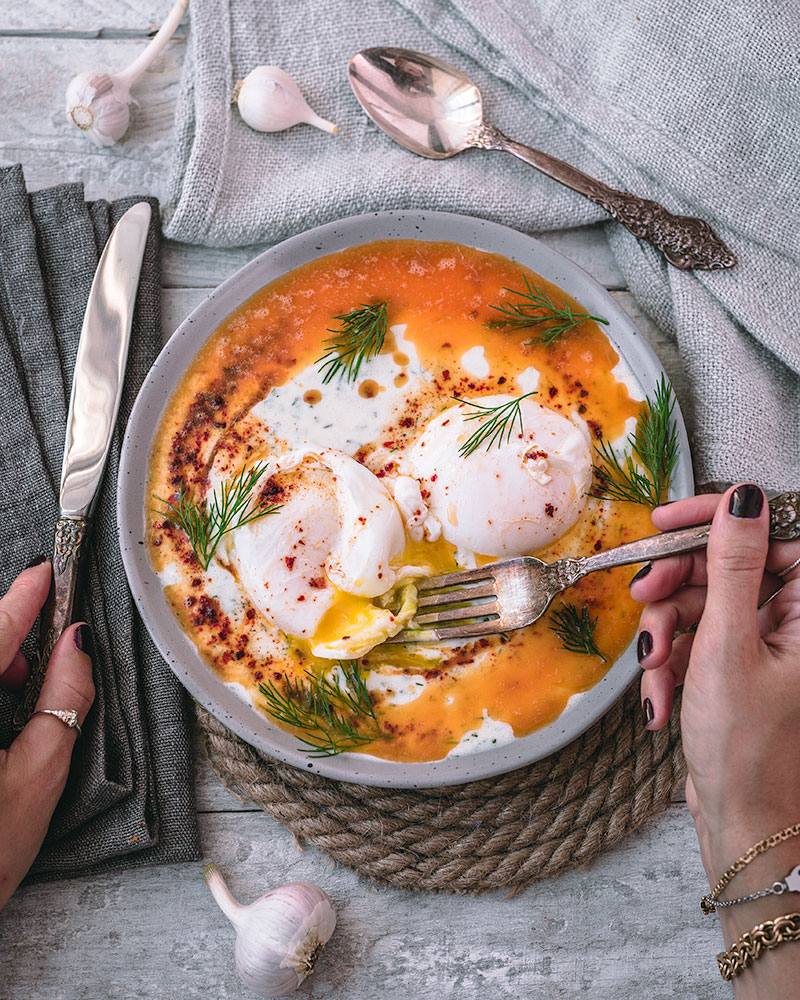 Cooking with style surely is a thing and don't worry, I got you covered! This is a selection of tools, kitchenware and other cool stuff to make this recipe or just to complete your personal collection.