I think Rome is one of the most romantic places in the world to fall in love. I was there when I totally fell for that smell. Rose Jam … what a lovely name!
Rome was the first stop for Jean-Felix and I during our last road trip to Europe. We rented a room in an Air B&B flat. It was beautiful and cozy with an amazing host. Giulia was extremely kind and generous, and she was sharing everything with us. Food, beverage and also all the body and hair products we wanted to use. The first thing we were dying for after that many hours on a plane, bus and every other public transportation, was to take a long and hot shower. It's at this exact moment that I fell. I saw the bottle in the shower and took a sniff. WOW!! These roses and vanilla fragrances brought me straight to heaven. The softness of my skin and the delicacy of the aromas that this shower gel left on me even hours after, made me feel so great. The day after, when we went out exploring the city, I was eager to find a Lush boutique to buy a bottle and I soon found one. You can't imagine how sad and disappointed I was when they told me that it was only a seasonal product. I spent all the trips entering in every single Lush store I was seeing in every country we were visiting to ask if they'd still had some left overs! HA-HA-HA!!!
But … the good news in my story, the product is made every year and comes out for winter.
When we came back to Canada, it was finally THE season. As soon as we got back to our city, Jean-Felix went on Saint-Jean Street and bought me 2 big bottles for reserve! HA-HA-HA Perfect gift from the perfect boyfriend! He also bought couples of bubble bars and guess what … water becomes pink. This is soooo girly and I love it! I wanted to share this with you because it has been a huge crush on me and I want you to get the chance to try it before the end of the season. If you love it, then make some reserve because otherwise you will have to wait for next year! What a nightmare! One that smells good, of course, but still … you don't want that.
Love you!
Sefra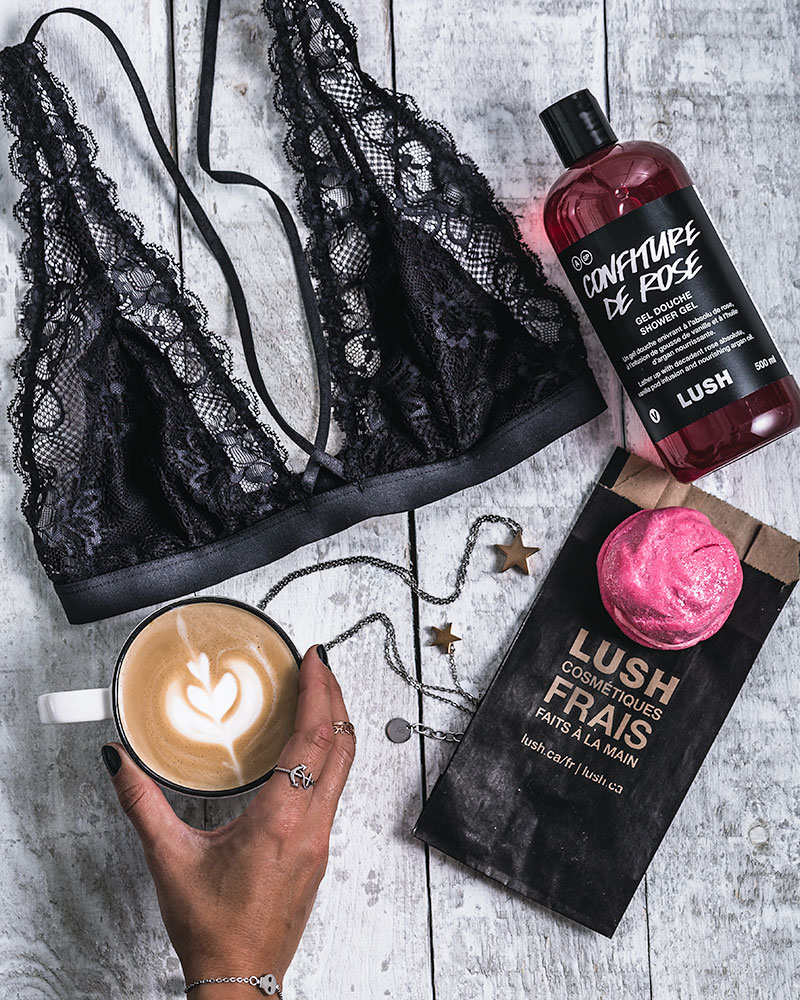 If this post got you in the mood for shopping, I made a selection of lingerie, cosmetics and other cool stuff that fit my vibe today. Happy shopping!!!