I heard about Spam Musubi a few times before and to be honest it never really interested me… Until that day! The day Isabelle Cheng from allons. y posted a picture on her recipe on Instagram. She made some Spam Musubi and they looked soooo good that I had to try it! HA-HA-HA We met Isabelle in Victoria BC. during summer of 2019. We were invited by Empress 1908 Gin with other influencers to discover their amazing gin and also to have a blast discovering the beautiful Island of Victoria. The team at Empress gin made a really nice planning for us. It was a short trip with a busy schedule … it was very fun. We met some lovely people there like Isabelle. By the way you should have a look at her Instagram and also at her website. She has looooots of tips for you about travels, food, lifestyle and so many other subjects. She's really inspiring.
That being said, Isabelle was kind enough to share her recipe of Musubi with me. Also, fun fact, a friend of mine, Julie, brought me back from her last trip to Hawaii a cute little cooking book. Inside there's also a Musubi recipe… I had no reason at all not to try it this time! Inspired be these two recipes, I create my own and there we go! It was a success. We loved it so much, it became our new favourite snack!! HA-HA-HA I always keep a box of Spam in the pantry now. Don't judge!!! Loooool as soon as you try it you will understand!
For 8 Spam Musubi
INGREDIENTS:
2 cups sticky rice
¼ cup rice vinegar (Depending on how you like it you can add 2 tbsp more)
1 can Spam cut in 8 slices
4 Nori sheets cut in about 2-inch slices
3 eggs beaten for the omelette (Optional but sooooo damn good)
1 tbsp of neutral oil
For the marinade
2 tbsp soy sauce
2 tbsp oyster sauce
½ tbsp Mirin
2 tbsp of the sugar you prefer between wite sugar, brown sugar or honey. I mixed two different sugars, but it's up to you.
PREPARATION:
First, cook the sticky rice following the instructions on the package. When it's done, add the rice vinegar and mix well. Put the rice in a big bowl and cover with plastic wrap. Let the rice cool down to room temperature.
In a bowl or in a deep plate, mix all the ingredients of the marinade. Mix until the sugars are totally dissolved. Add the Spam slices and let marinate for at least 15 minutes but for a better result, I let mine for about 1 hour.
In a large nonstick skillet at medium heat, brown the Spam slices in the neutral oil for 2 or 3 minutes each side. 
When this is done, if you want it tastier … and I think you should… You can add a bit of your marinade (¼ cup or less, it's up to you) on the skillet and sprinkle your slices of spam with a bit more of the white sugar and flip to caramelize. Let simmer until all the liquid is almost absorbed. 3 – 4 minutes should be enough.
Place the caramelized Spam slices on a cool plate and let cool down to room temperature. 
Meanwhile melt a bit of butter in a nonstick skillet at low heat and pour your beaten eggs. Cook your omelette slowly. You don't want to fry your omelette. You want the eggs set but soft. Don't try to flip the omelette you will break it. When you see that it's almost set, just close the heat and cover with a lid. The cooking process will finish.  *** Choose a skillet big enough to make an omelette of about 3–4 millimetres thick and allow you to 8 pieces. Use your Spam box as a mould to cut your omelette pieces.
Now that you have everything, you are ready to make the Musubi. 
Place a Nori slice in a vertical way and put a slice of Spam perpendicular to the Nori sheet at the bottom of the sheet. Add a slice of the omelette on top. Then take some sticky rice in your hand to mould it. About ⅓ to ½ cup. You will need a bit of water in your hands otherwise the rice will stick in your hand. You can mould the rice with your hand or you can use the Spam box again as a mould. It's very convenient and it works perfectly. Add the rice over the omelette and you are ready to roll. You can seal the Nori sheet with a bit of water. 
Et voilà! As simple as that. Now you do the same steps until you're done with your quantity of Spam slices. It will make 8 Musubi.
Give it a try, I'm sure you will thank me! It's the perfect snack to share. Afternoon snack, happy hour, late snack… I just love it!!! And why not enjoy your Musubi with an amazing Tiki cocktail? HA-HA-HA Yes, yes… I know I'm always in to put some sunshine and to have fun! If you're worried about the early time for the cocktail because it's the afternoon … let's say something! It's 17 H somewhere on the planet! Cheers and bon appétit!
Love you!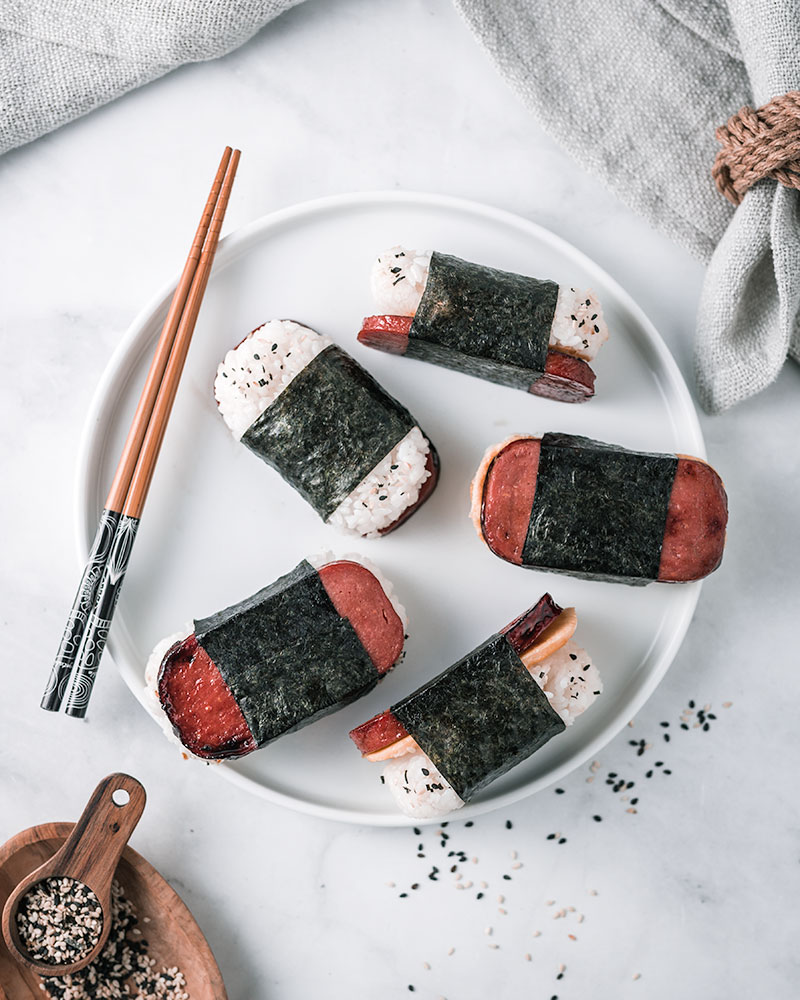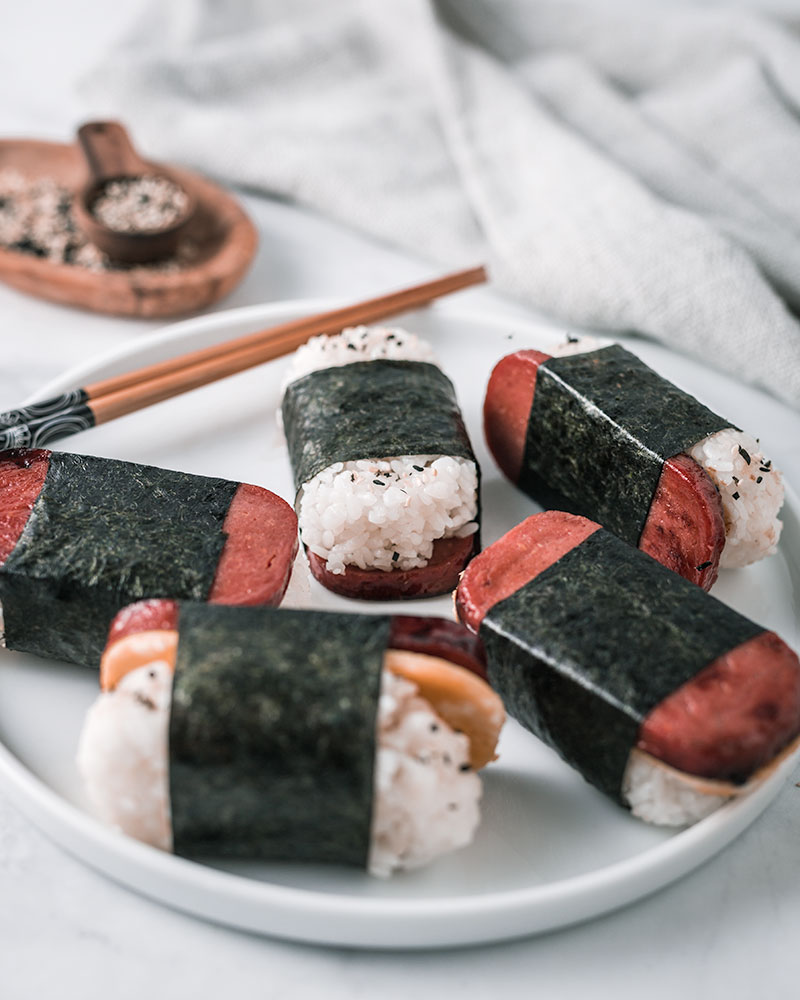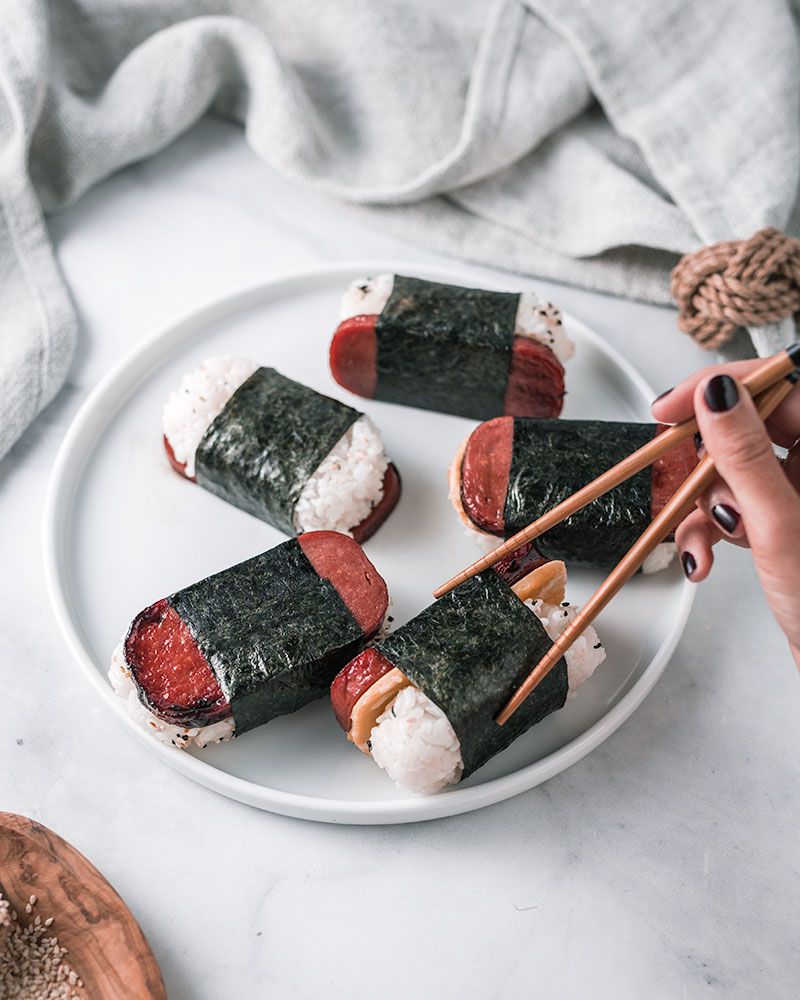 Fun little shopping right here!! Just for you! Enjoy!!