The first time I heard about Lohikeitto I was at home watching the Food network. It was a special episode about the traditional food and cuisine of Finland. As soon as I heard about Lohikeitto, this amazing salmon soup I decided I wanted to make my own recipe with a homemade lobster fumet. Jean-Félix was not super excited about the idea so I waited until I had a guest over to try it. It was amazing … and believe me or not, it became one of Jean-Félix's favourites. He always asks for Lohikeitto now. HA-HA-HA It's so comforting. This soup makes you feel warm and happy. In Finland they will serve the Lohikeitto with rye bread but I much more prefer with a big loaf of bread.
Lobster fumet
INGREDIENTS:
2 lobster carcasses (I prefer female because of the coral but you take what you want and don't throw anything … everything brings amazing taste to the fumet)
2 tbsp olive oil
2 onions cut in quarters
4 big carrots chopped roughly
2 leeks chopped roughly (just the green part)
4 celery stalks chopped roughly
1 bulb of garlic cut in 2
4 white mushrooms cut in 2
1 cup dry white wine
2 tbsp tomato paste
2 fresh bay leaves
1 big bunch of fresh parsley
4 bunches on fresh thyme
1 bunch of fresh rosemary
1 tsp black peppercorn
1 ½ tsp fine sea salt
12 cups of water
PREPARATION:
In a very large stockpot over medium-high heat, sear the lobster carcasses with the olive oil until they brown and spread an amazing smell. Add all the vegetables and pursuit to cook for about 10 minutes. Stir constantly at every step.
Add the white wine, the water and all the rest of the ingredients. Bring to a boil. Skim very well. It's really important for the quality of the fumet or any broth you will make for that matter.
Simmer over medium-low heat for about 2 hours or 2 hours and half.
With a cheesecloth strain the fumet in a large pot. Press carefully all the ingredients to make sure that you extract every single drop of it. There's a lot of flavour in there so don't be lazy and press hard HA-HA-HA You will thank me later! The juice is worth the squeeze. *Remove harder pieces of carcasses before to make sure not to hurt yourself. .
You will have more than the 3 cups you need for the Lohikeitto. You can freeze the rest easily and keep it for everything you want. Pasta, risotto, fish soup … you choose! What's certain is you will enhance your recipes with this gorgeous fumet. I swear!
For the Lohikeitto
For 2
INGREDIENTS:
400 gr fresh salmon fillet (skin off) in 1 – 1 ½ inch cubes
3 cup your favourite fish fumet or in my case homemade lobster fumet
2 tbsp butter
1 onion finely chopped
1 leek finely chopped (use just the white part and keep the green for the fumet)
1 clove of garlic finely chopped
6 potatoes peeled and chopped in 1-inch cubes
1/4 cup dry white wine
5 black peppercorns
2 fresh bay leaves
100 ml heavy cream (35%)
Fresh chives finely chopped
Fresh dill finely chopped fine sea salt
PREPARATION:
In a large soup pot, melt the butter over medium-low heat. Add the onion, leek, garlic and bay leaves. Cook slowly, stirring constantly until soft and wilted. Do not brown.
Add the white wine, the fumet and the peppercorn. Season with fine sea salt. Bring to a boil and add the potato cubes. Simmer for about 10 minutes, until the potatoes are cooked but not too soft.
Add the heavy cream, fresh dill to taste and the salmon. Cook for about 4–6 minutes. It depends on how you like your salmon. I don't like when it's over cooked so I let it for the minimum time. Don't be shy with the dill… It's sooooooo good!
Adjust the seasoning and you are ready to serve! Sprinkle with some fresh dill and chives.
Voilà! Bon appétit les amours! Hope you will enjoy it as much as we do. It's one of our favourite meals. It tastes like love at every bite.
Love you!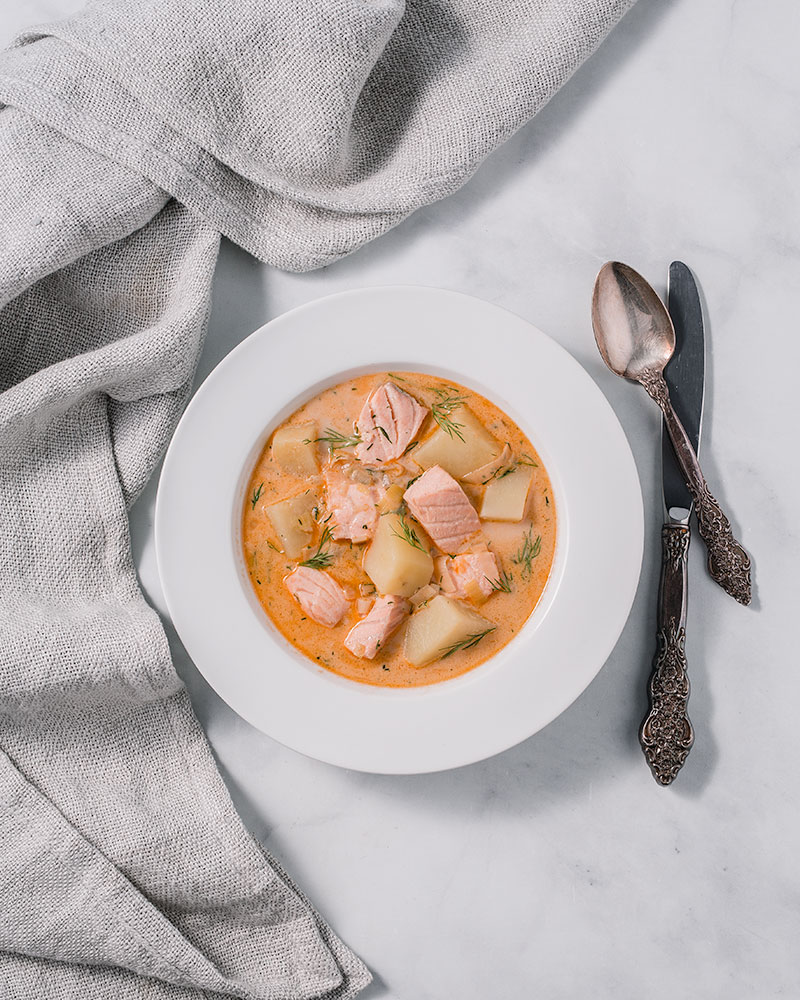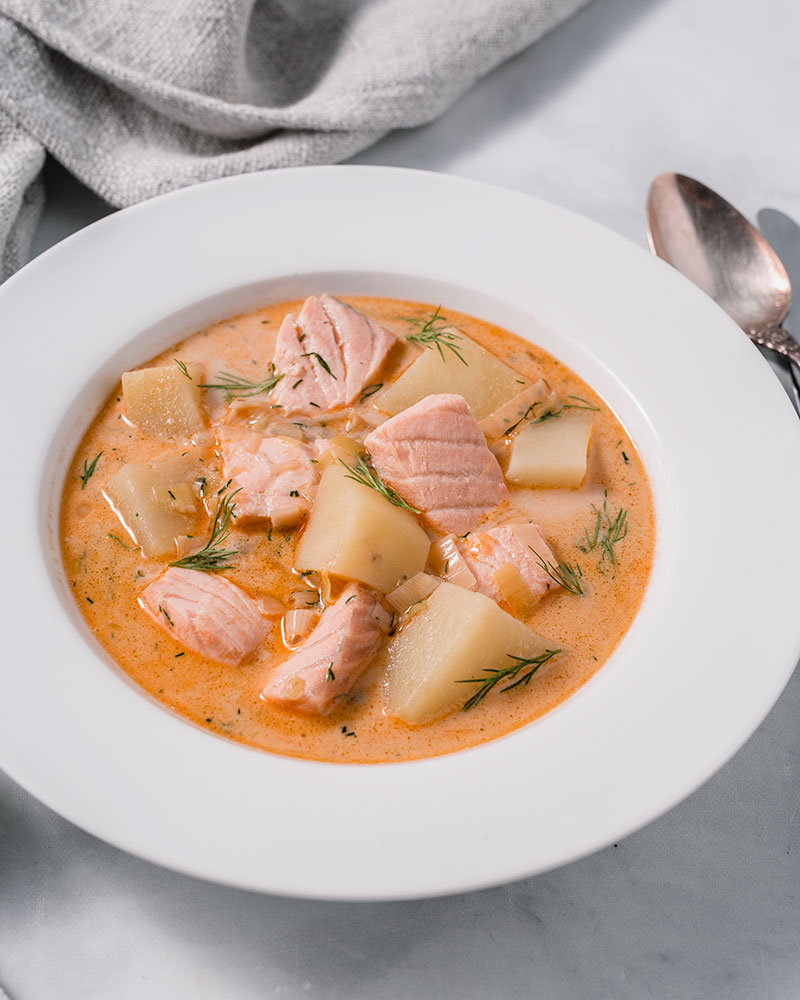 As usual…A little shopping selection I made just for you!! Enjoy!