Stuffed donut is one of my favourite things in the word. Every time it's a surprise. You know the kind you are choosing but you never know how it will really be inside. But I love them no matter what as soon as they are fluffy, soft and sweet! I had stuffed donuts in so many places in my life and honestly I think that I like them all. We always have a favourite in everything though.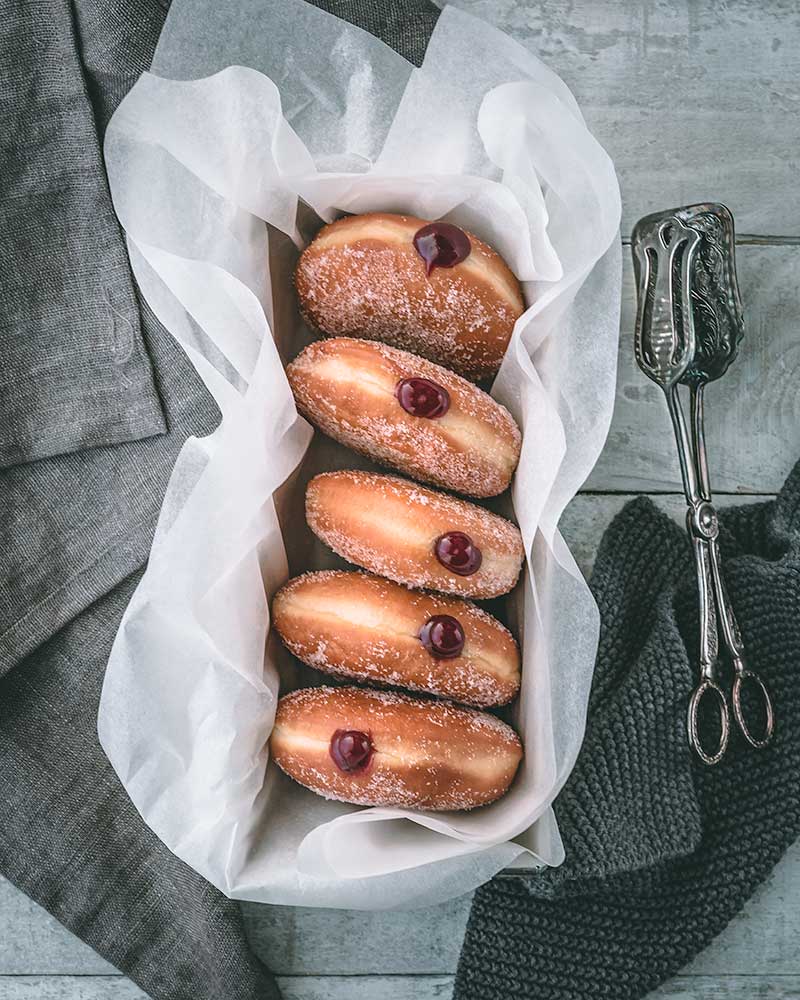 My favourite donut I've had is for sure the one in San Sebastian. I put a picture of this moment on our Instagram and I promised you that I would make a recipe for you. Well, here you are! (By the way, if you're not following us on Instagram it's the perfect moment to start, we put so much love in it ♡ HA-HA.) So I was having a blast eating my blueberry stuffed donut, I think I had some everywhere over my face when my beloved Gemma came out from nowhere in front of us!! Remember I told you about her. She's Paquita's daughter. So amazing being sitting on a terrace in San Sebastian and having the surprise to see someone you love! She was working in the neighborhood and then we had the huge pleasure to spend some time together before she needed to head back to work! So I had two surprises that day. First was to meet my lovely Gemma and second, how delicious and full that blueberry donut was! HA-HA
I don't know if you remember but in the last post I told you that most of my memories were connected with food or smell. This is no exception.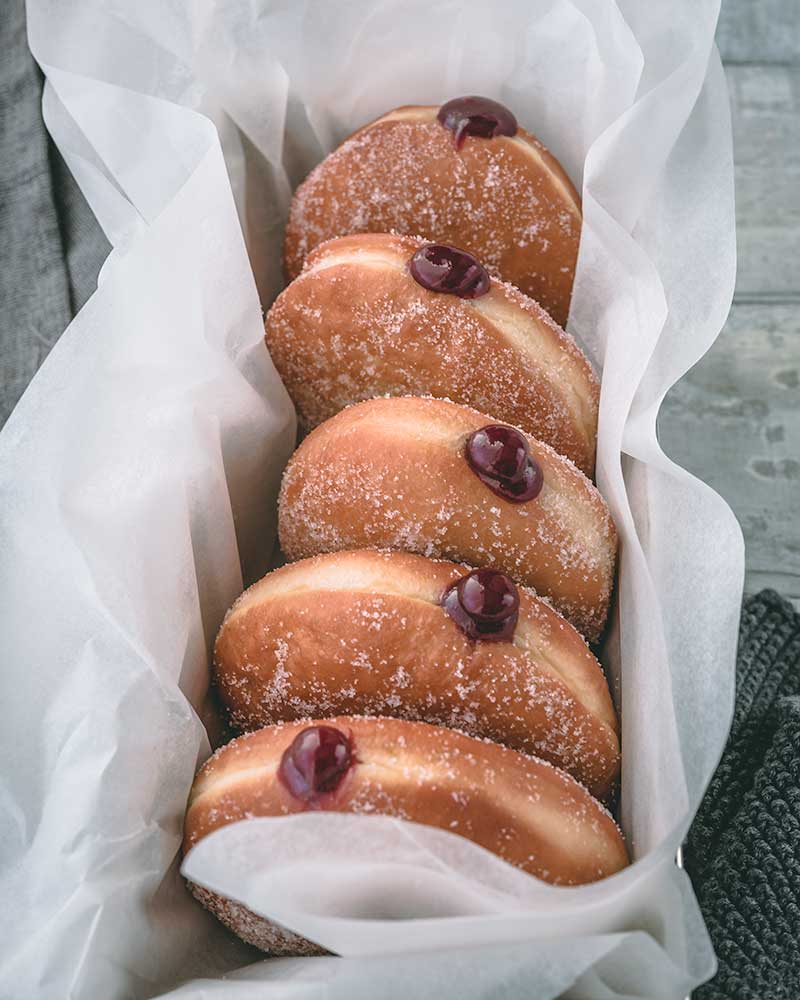 9–10 Donuts
Fruits filling
INGREDIENTS:
1 LB berries (for these one I use strawberries and blackberries and it was delicious)
1/2 cup sugar
1/4 tsp salt
1 tbsp fresh lemon juice
PREPARATION:
Put the berries, the sugar and the salt in a medium sauce pan. Over medium heat, bring to boil gently. Then continue at low heat. Stir constantly until you have a thick mixture. About 30 minutes. Don't forget to skim during the process. When you're satisfied with the consistence and see that the water is evaporated, remove from the heat.
With an immersion blender, make a puree and then filter with a fine mesh strainer. This step is a bit long but believe me, it is worth it. You will have a sleek puree without any seeds in.
Add the lemon juice in your berry puree and mix well.
Put your berry filling in a pastry bag with an appropriate tip on. Reserve for later!
Donut dough
INGREDIENTS:
1 1/2 cup unbleached flour sifted (All-Purpose)
1/2 cup milk (I always use whole milk to cook and bake) lukewarm (110 to 115 degrees)
2 tbsp sugar
1 ½ tsp active dry yeast
2 egg yolks room temperature
2 tbsp unsalted butter softened
1/4 tsp fine sea salt
Frying oil (I use vegetal)
Sugar for dusting
PREPARATION:
In a bowl, put the lukewarm milk, the sugar and add the yeast. Let the mix aside until foaming. About 5 minutes.
Combine the sifted flour, eggs, butter and salt in a mixer fitted with a dough hook. As soon as your yeast mixture is foamy, add it in the bowl too and beat at low speed to combine all the ingredients. It will take about 2 minutes. Increase the speed to medium speed and let it go for about 8 minutes. I also like to put a bit of "elbow grease" so sometimes I'll just knead on a floured surface for 8 minutes. It's not an obligation to use a mixer.
Put the dough in a lightly greased bowl (I use unsalted butter) and cover with a wet dish towel. Let rise in a warm place for 1 hour until it has doubled in size.
Prepare a baking sheet with parchment paper lightly floured.
On a lightly floured work surface, punch down the dough and roll it to get a disk of about 1 inch thick.
With a round cutter, about 3-inch diameter, cut your donuts. Reuse scraps to make another one. Place the donuts on your lightly floured baking sheet.
Cover with a dish towel and let rise one hour in a warm and humid place until it has doubled in size.
Put enough frying oil in a medium-large sauce pan. Heat the oil over high heat. If you want to know if the oil is ready, put a piece of bread in and if it becomes golden, it's time. Right temperature is 350 °F. Be careful with the temperature of the oil. If it becomes too hot, you will burn your donuts and they won't cook properly inside. It takes about 2–3 minutes on each side.
Prepare a baking sheet with paper towels.
Don't put too many donuts at the same time. I go 2 or 3 at the time. Let cook until golden brown and then turn the donuts on the other side until they are ready. Put them on the paper towel and let cool.
Repeat the operation until all the donuts are done!
With the handle of a wooden spoon poke a hole on the side of your donuts to make a cavity.
Roll the donuts on the sugar.
Fill the donuts with your berry filling and GO! You are ready to have a sugar attack! I'm not responsible for the addiction it could cause.
I hope you will enjoy them as much as we did. They are fluffy balls stuffed with love!
Love you
Sefra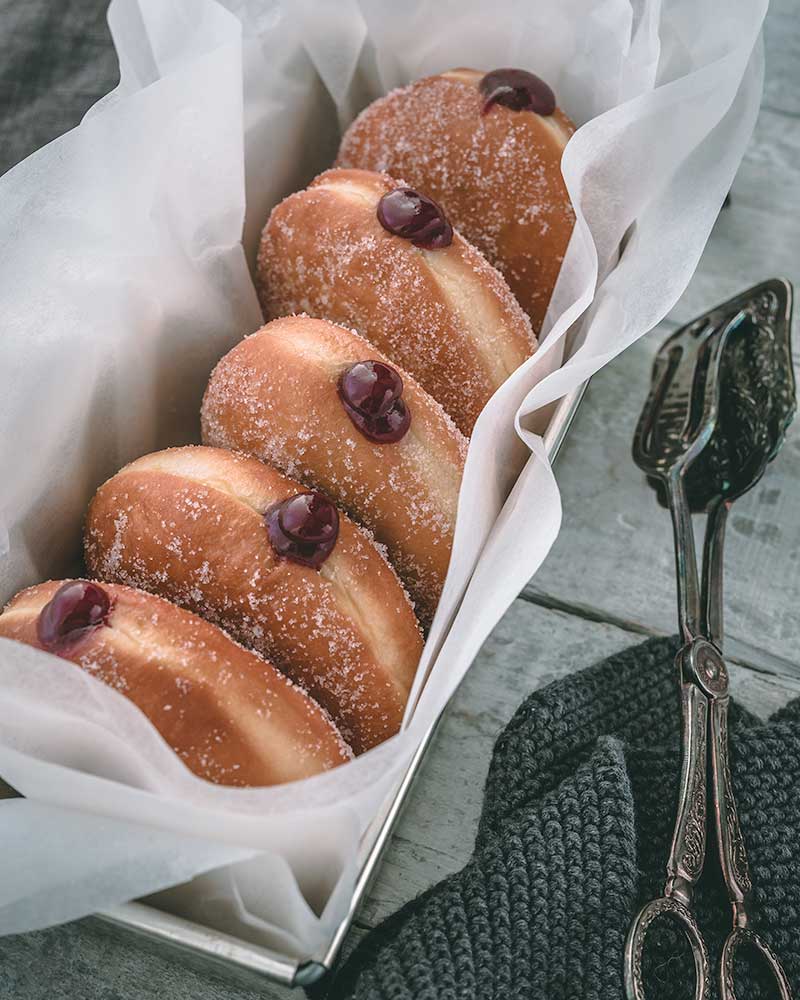 In case you don't have already all the tools to make donuts, here's what you gonna need to make them. Of course, I also add some beautiful accessories to present them or simply to complete your personal collection of kitchenware. I went all out with this selection because I believe that making stuffed donuts with funky accessories makes the process funnier. I'm sure it can even make them taste better Ha-Ha!
Perfect memory!