These little things are absolutely fantastic. The way they pop up in the oven brings a huge smile on my face and lots of child happiness in my heart! I don't know if you have any kids but as both of us are, I can promise that this is the perfect recipe to make with them! They will love to sit in front of the oven window and watch them change. It's exactly what we did. HA-HA-HA What??? Don't judge … I told you … we are kids.
For 2
INGREDIENTS:
3 eggs
1/2 cup whole Milk
1/2 cup unbleached flour sifted (All-Purpose)
2 tbsp sugar
1/4 tsp fine sea salt
1 tsp vanilla extract
3 tbsp butter
PREPARATION:
Preheat the oven to 450 °F. Place the rack in the middle position.
Put two small Cast-Iron skillets in the oven in order to heat them. They must be very hot so let them heat for about 20 minutes.
In a medium bowl, mix all the ingredients except the butter. Mix until the batter is smooth.
When the skillets are very hot, remove them from the oven and separate the butter in both skillets. Melt the butter and separate the batter in the skillets.
Put back in the oven and bake for 15 minutes. Drop the heat at 325 °F and bake for 5 more minutes.
Et voilà. Easy like this!
For the topping, it's the way you want. You can go crazy! On mine I put strawberries, maple syrup and vanilla ice cream but you know, in the original recipe it's simply butter, fresh lemon juice and confectioners 'sugar. That's it and it's a pure wonder as well!
Next time … I'll go with a salty version! Get ready, it will be totally amazing! But for now, let's have a sugar attack!
Bon appétit!
Love you!!!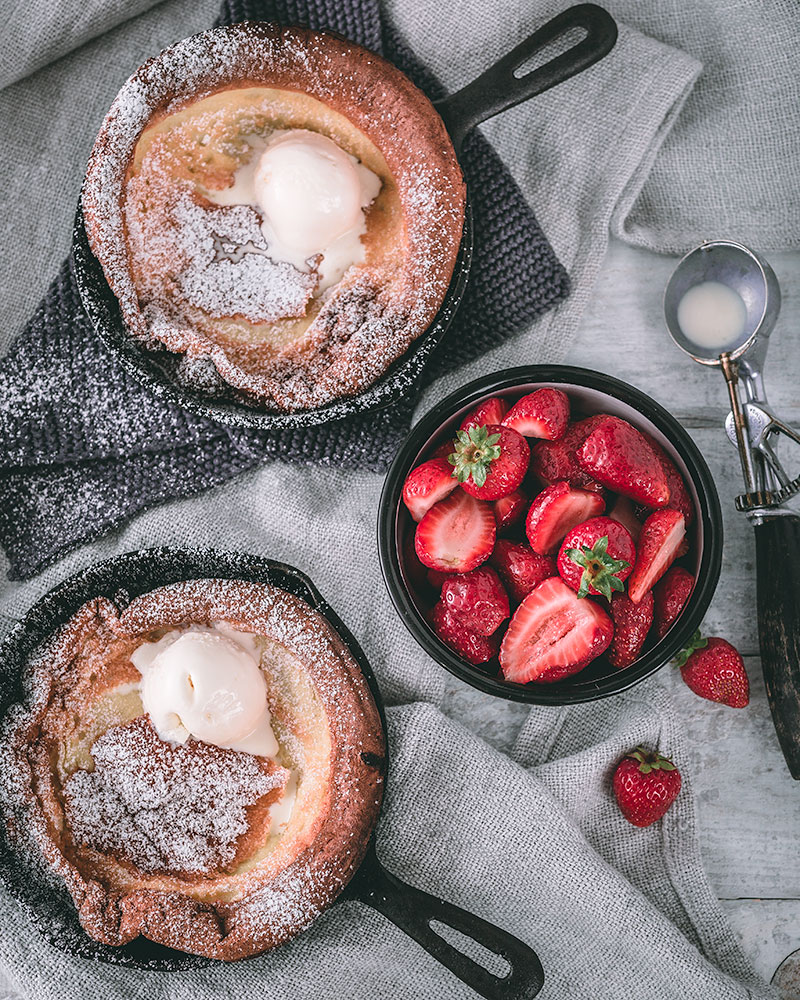 If you don't have already everything to make this recipe, I did shop for you. Don't thank me, I love it!