When Sefra and I announced our friends and family that we would start a blog about food and cocktails, many asked us if we would do cocktail and food pairing. Even if I think that sometimes cocktails can be great friends with food, I honestly think that wine is so much better. Bottom line, my answer to this question was "no" unless I really feel for it and guess what? Today I feel for it.
Earlier on our Instagram, I posted a cocktail recipe with Gin, Suze and Dill. That cocktail turned out to be great with oysters and smoked salmon. (For the recipe click this link.) But as I said above, most of the time, I feel that cocktails are either too boozy or too sweet or too complex to enjoy with food. But when it comes to desserts or after dinner drinks, I believe that sweetness, boozyness and complexity are good companions. That's why I prefer to do food and cocktail pairing with desserts.
You guys need to know that marzipan is one of my favourite things in this world and Sefra makes the best I've ever had in my life. When she makes her almond paste cookies I'm telling you, I go nuts! They are soooo good!!! That's why I felt to pay them homage and make a cocktail that pairs wonderfully with them.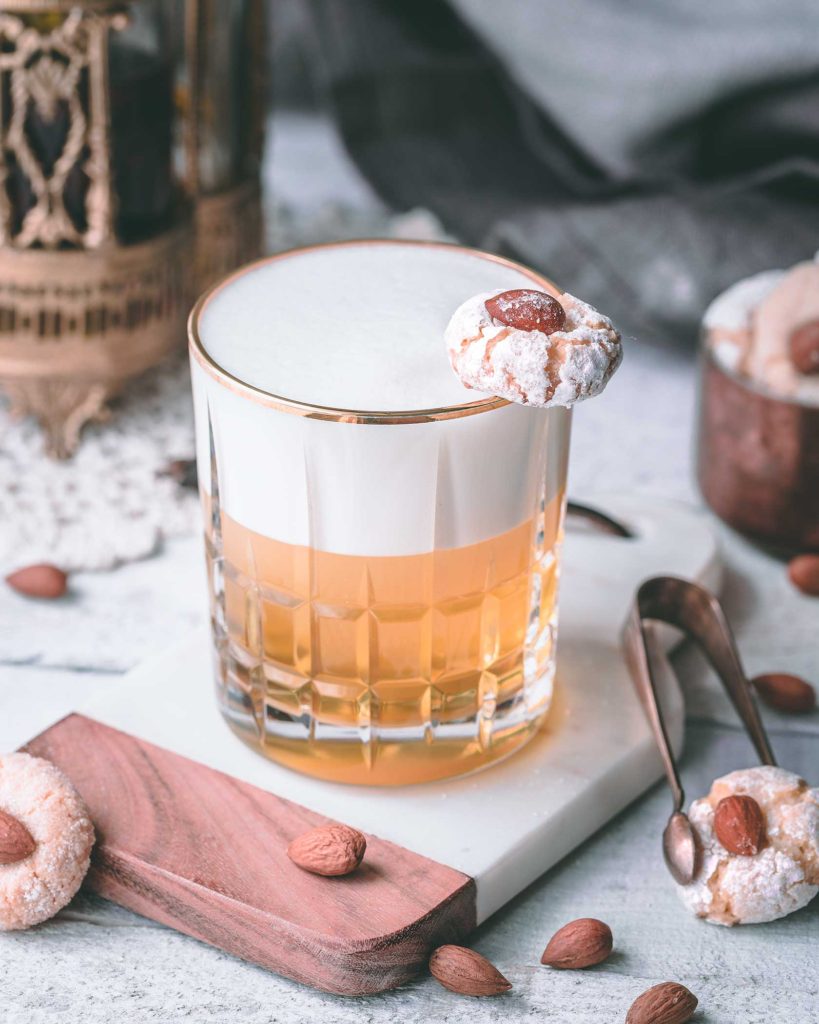 Amaretti Sour
INGREDIENTS:
1.5 oz Crown Royal Northern Harvest
0.75 oz Sapote Syrup
0.75 oz Fresh Lemon juice
0.5 oz Amaretto
0.5 oz Olorosso Sherry
3 Dashes Bittered Sling Malagasy Chocolate bitters
1 Egg white
METHOD:
Pour all ingredients in a shaker.
Dry Shake.
Fill with ice and shake.
Strain over ice in a rocks glass.
Garnish with an Almond cookie.
Sefra's Amaretti cookies
(Makes 45 Amaretti cookies)
INGREDIENTS:
200 gr almond powder
150 gr sugar
2 egg whites
1/2 tsp bitter almond extract
1/2 tsp vanilla extract
2 tbsp sifted unbleached flour
1/4 tsp fine sea salt
1 ½ tsp lemon zest
For topping
Almonds
Sugar
confectioners' sugar (icing)
PREPARATION:
In a bowl, mix all the ingredients except the egg whites.
In another large bowl, beat the egg whites with an electric mixer at high speed until peaks form. Peaks must be stiff.
Gently, fold the egg whites within the almond powder mix with a spatula until you get a paste texture.
Prepare a baking sheet with parchment paper.
With your hands make little balls about 1 inch and roll them half in the white sugar and half in the confectioners' sugar. Put the Amaretti cookies on your baking sheet.
When your done making your Amaretti cookies, put an almond on each and press just a bit.
Let raise your Amaretti cookies on the baking sheet room temperature about 2 hours.
Preheat the oven to 300 °F.
Bake for about 20–25 minutes until the Amaretti cookies are slightly golden and crack.
Et voilà!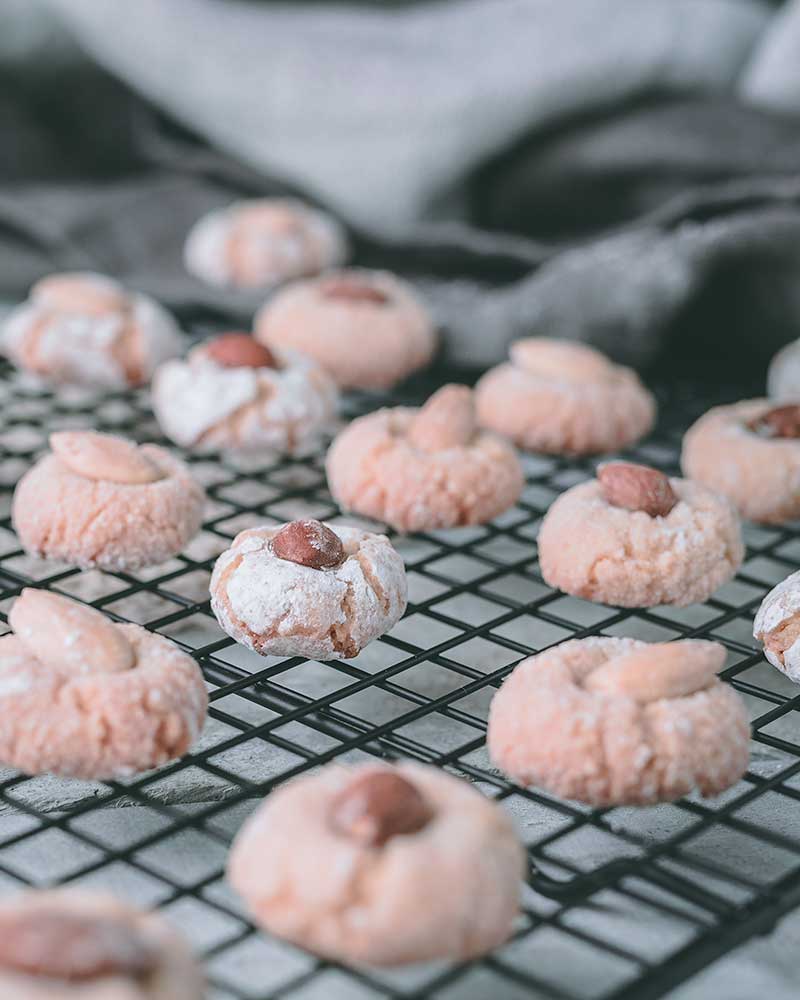 This complex Amaretto sour has everything to be good on its own but with a bite of Sefra's cookies … all the flavours POP! The smooth rye with its delicious wood finish, spices and vanilla backbone is a great base for this nutty concoction. The Sapote and Olorosso amplify the almond taste of the cookies while adding complexity. The lemon highlights the citrus zests in the cookies and brightens the mix while the bitters with chocolate and spices unifies everything.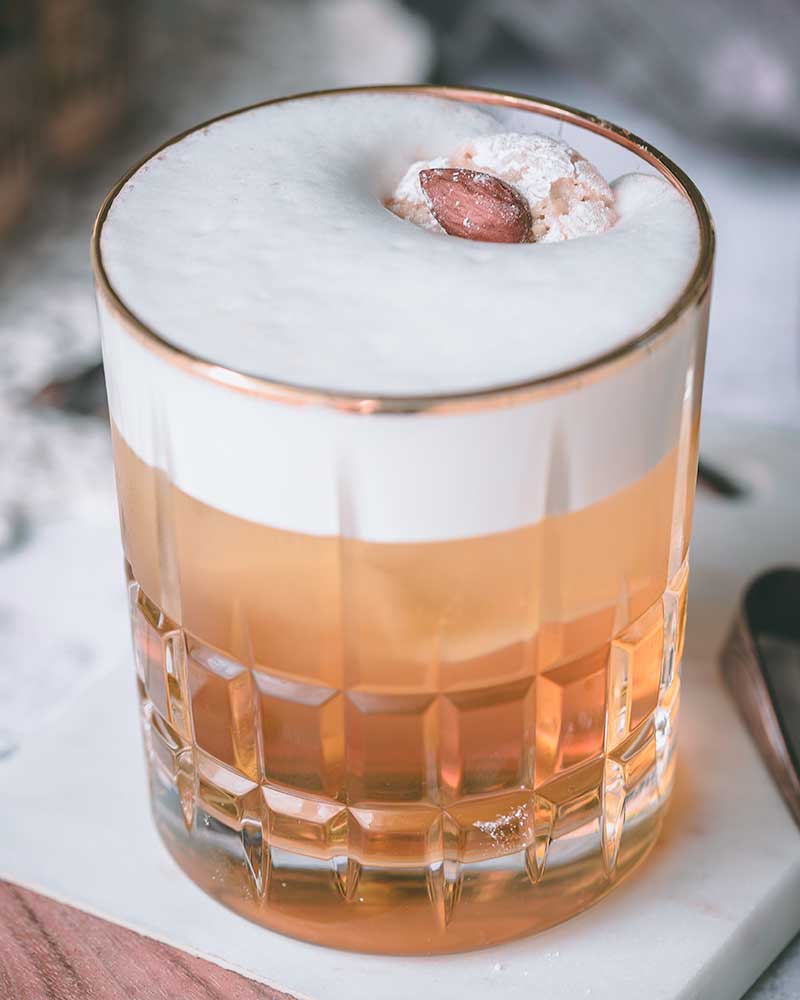 OUPS!!! That's the kind of accident that can happen during a photoshoot! HA-HA-HA
Now my mouth is legitimately watering while writing this text. If you look for me, I'll be finishing the cookie jar. Cheers guys!
Jean-Félix
These are some barware and kitchenware that will definitely help you to make this recipe in style.