I am a huge huge fan of soups! I mean, all kinds of soups. The only problem I have is called Jean-Félix! He is not! HA-HA-HA! Or maybe should I say, he was not. After several years spending together and after many, many, many soups, I think I succeed in making him enjoy most of them. It's a big victory! LOL I'm still crossing my fingers about mushrooms. Yes … you read well… He hates mushrooms. I love to say that it is its only big default. But about all the rest, he is almost perfect! Says the girl who's totally in love! HA-HA-HA
Hope you will enjoy this soup because I do. Every time I go to a Japanese restaurant, I order Udon soup. They are always a bit different depending on where I go and where I am in the world but that's what I like the most! I enjoy the way that no one is cooking the same way. It makes it wonderful and so inspiring.
For 4
Regarding the dashi broth:
You can easily make it yourself from scratch or you can use Dashi powder.
Dashi powder:
2 ½ cups water
1 Pkg 5 gr dashi powder
Preparation:
In a sauce pan, mix water and the Dashi powder.
Bring to boil and make your soup.
Homemade Dashi:
2 ½ cups water
2 Kombu about 4 inches each
2 cups Bonito flakes
Preparation:
In a sauce pan put the Kombu and the water and let infuse about 1 hour. Over medium-low heat bring to boil very slowly. It will enhance the flavour. Just before boiling when you are seeing little bubbles on the edges of the sauce pan, remove the kombu.
Add the bonito flakes and bring to boil again. Reduce the heat and let it boil about 10 minutes.
Strain the broth et voilà!! You are ready to make your soup.
INGREDIENTS:
2 ½ cups Dashi broth
2 Pkgs Udon Noodles (200 gr each)
4 eggs at room temperature
1 tbsp soya sauce
1 ½ tbsp Mirin
1 tbsp sake
1 tsp sugar
1/2 tsp fine sea salt
Green onions finely chopped
Shichimi Togarashi (Japanese seven spices)
PREPARATION:
In a sauce pan put the Dashi broth, soya sauce, Mirin, Sake, sugar and the fine sea salt.
Bring to boil on medium heat.
Meanwhile, in a large pot, bring water to boil and add the Udon noodles. Cook for about 2–3 minutes and strain.
Split the Udon noodles in four bowls.
Crack an egg on top of the Udon noodles on each bowl. Be careful not to break the egg yolk (if the raw eggs are too much for you, you can always go for poached or boiled eggs, making sure not to over cook the yolk).
Drop the hot Dashi broth on the eggs and Udon noodles.
Sprinkle with lots of green onions and with Shichimi Togarashi!
The dashi broth must to be hot. I mean … really hot! As soon as you are sitting with your soup, mix the egg in the broth. It will cook gently. The soup will become super smooth with the egg. The oiliness you will feel at each bite will bring you to even! Crazy simple but amazingly fantastic! Sweet Lord I LOVE to eat! HA-HA-HA
Love you!!!
Sefra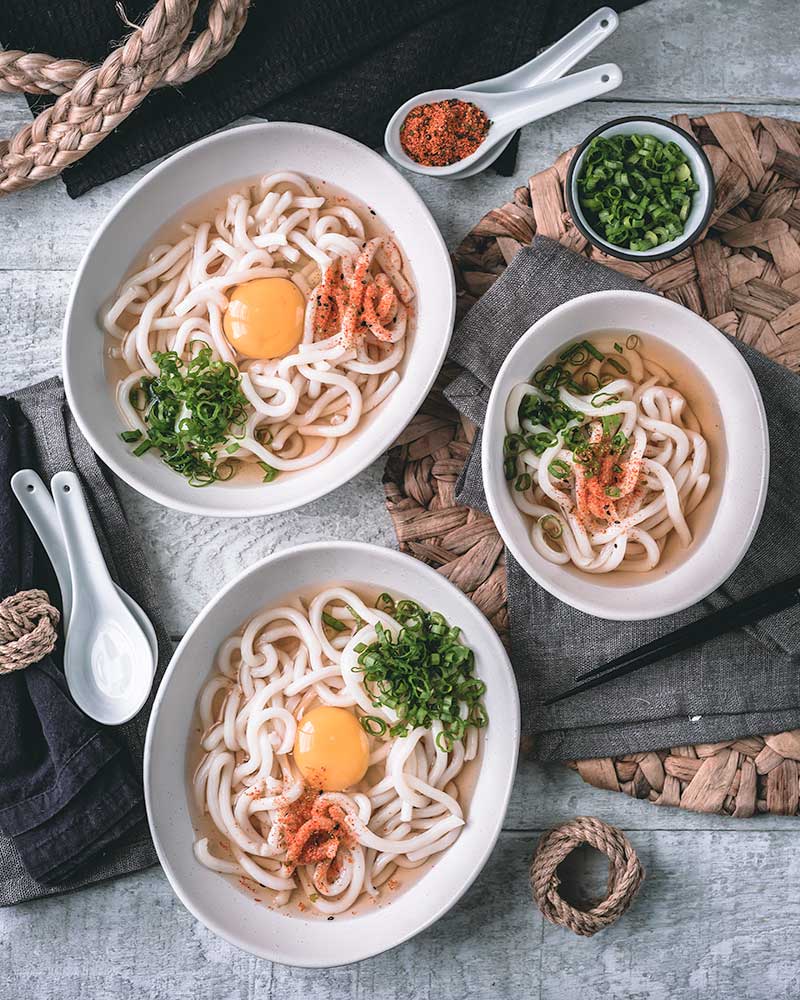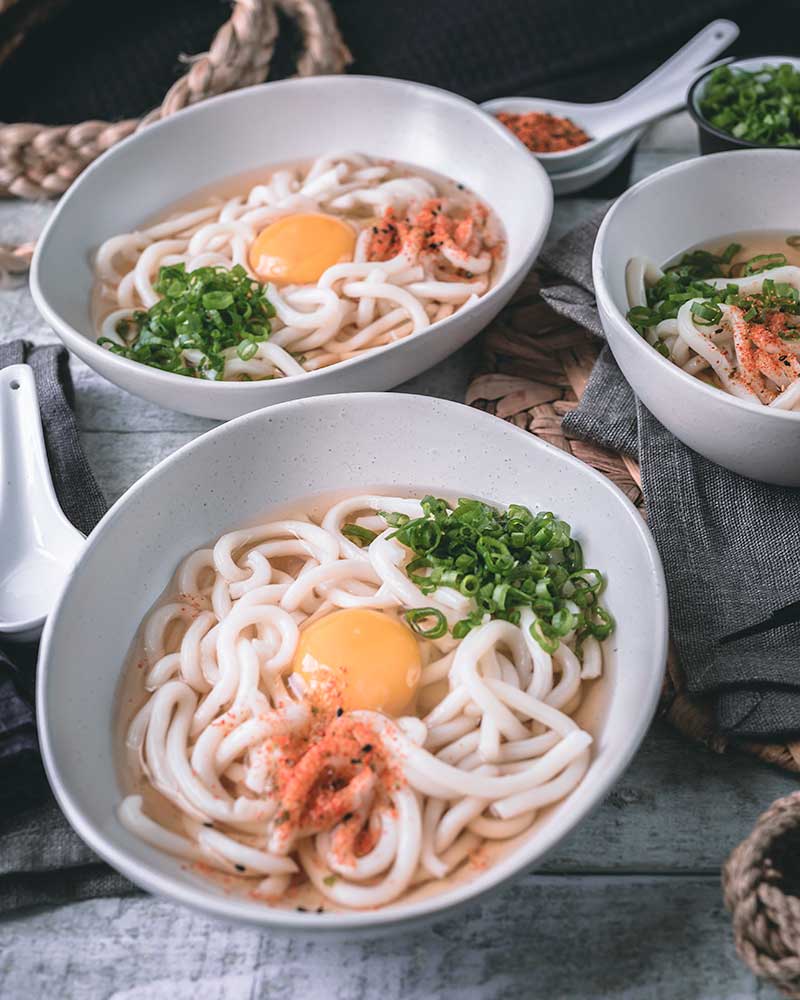 This is such a simple recipe. No need for special equipment. But you know my addiction for kitchen tools shopping, right? If you are like me, here's a selection of some awesome items to complete your collection.