The star bread is a magnificence! We love it so much. Jean-Felix can eat the whole thing all by himself! Yes, he eats like a baby dinosaur! Ha-Ha-Ha! The most amazing with this recipe is that as soon as you know how to make the dough and the shape, you can flavour it with whatever you want. I made it with sugar, spices and butter but you can put your favourite jam, chocolate, or even better, you can make it salty! Pesto, nuts, ham, cheese… You see me coming, right? I think it won't be my only star bread on this blog! So I will let you enjoy this one and we'll see what will be the next one! This is sooooooooo GOOD!!!
INGREDIENTS:
For the dough
2 ½ cup unbleached flour sifted (All-Purpose)
¾ cup milk (I always use whole milk to cook and bake) lukewarm (110 to 115 degrees)
¼ cup water, lukewarm (110 to 115 degrees)
1 egg
¼ cup unsalted butter softened
2 tbsp sugar
2 tsp active dry yeast
½ tsp fine sea salt
For the filling
¼ cup unsalted butter melted
2 tbsp brown sugar
4 tbsp sugar
2 tsp ground cinnamon
½ tsp ground nutmeg
Mix the sugar and spices in a little bowl. Reserve for later!
For the topping (glaze)
2 tbsp hot water
1 tbsp sugar
2 tbsp honey
Mix all the ingredients together and reserve for later!
PREPARATION:
In a bowl put the lukewarm milk, lukewarm water, sugar and add the yeast. Let the mix aside until foaming. About 5 minutes.
Combine the sifted flour, egg, butter and salt in a mixer fitted with a dough hook. As soon as your yeast mixture is foamy, add it in the bowl too and beat on low speed to combine all the ingredients. It will take about 2 minutes. Increase the speed to medium speed and let it go for about 8 minutes. I also love to put a bit of "elbow grease" so sometimes I just knead on a floured surface for 8 minutes. It's not an obligation to use a mixer.
Put the dough in a lightly greased bowl (I use butter) and cover with a wet dish-towel. Let rise in a warm place for 1 hour until it doubles in size.
Prepare a baking sheet with parchment paper.
Punch down the dough and divide it in 4 equal pieces. Shape them in balls.
On a lightly floured work surface, roll one piece to get a disk shape of about 10–11 inch diameter and place it on the baking sheet you prepared earlier. Brush the circle with the 1/3 of the melted butter and sprinkle the whole disk with 1/3 of the spice mix.
Roll a second piece the same way you did the first one and place it on top of it. Repeat the operation with the melted butter and the spice mix. Do the exact same thing with the third piece of dough.
Roll the last piece the same way and put it on top. Since you already used all your filling, you won't put anything on this layer.
Place a 2 ½ inches round cutter on the centre of the dough disk but don't press on it. You don't want to cut the dough with the cutter. It's just there as a reference for you to know where not to cut. With a sharp knife cut down the dough into 16 equal strips from the round cutter to the edge.
Take two strips and rotate twice outward. Pinch ends to make them stay together. Repeat this operation with all the strips. Remove the round cutter.
Cover with your wet dish towel and let rise for about 30 minutes.
During this time, preheat the oven to 375 F.
Brush the glaze mixture all over the bread and put in the oven for 18 to 20 minutes until it is golden brown. Remove from the oven and brush again with the leftover of glaze mixture. Let it cool on a wire rack.
It will be the star of your day! Ha-Ha I'm so cheesy!
Love you!
Sefra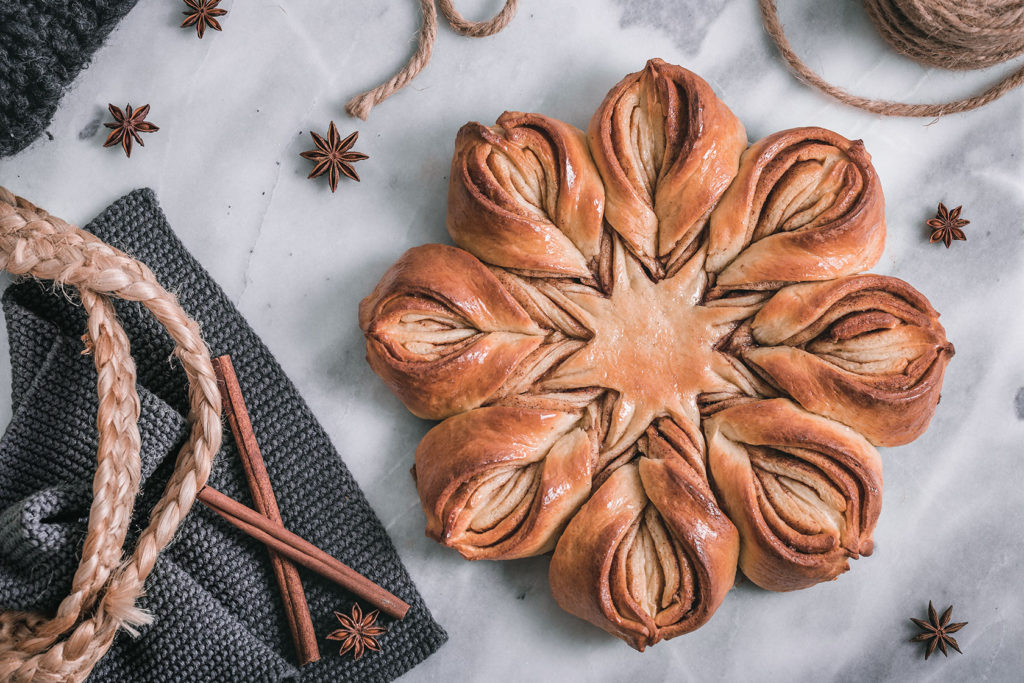 To be able to make this recipe you will need some tools. Below you'll find a pretty selection if you want to complete your own collection. Have fun shopping!