Today guys, it's Banh Mi day! It's amongst Jean-Félix's favourite day. He's begging for some Banh Mi almost every week! What can I say?? I think they're pretty good! HA-HA-HA You can make Banh Mi with so, so, so many things. You have a lot of possibilities. Mine are made with pork meatballs. Those flavourful little meatballs are the secret of my crazy Banh Mi. (Ok… One of my secrets… HA-HA-HA but don't worry, I will tell you everything)
I would love to try another recipe soon but when we are thinking of Banh Mi around here, we're always craving for these. Hope you gonna enjoy it as much as we do because here, we are totally addicted!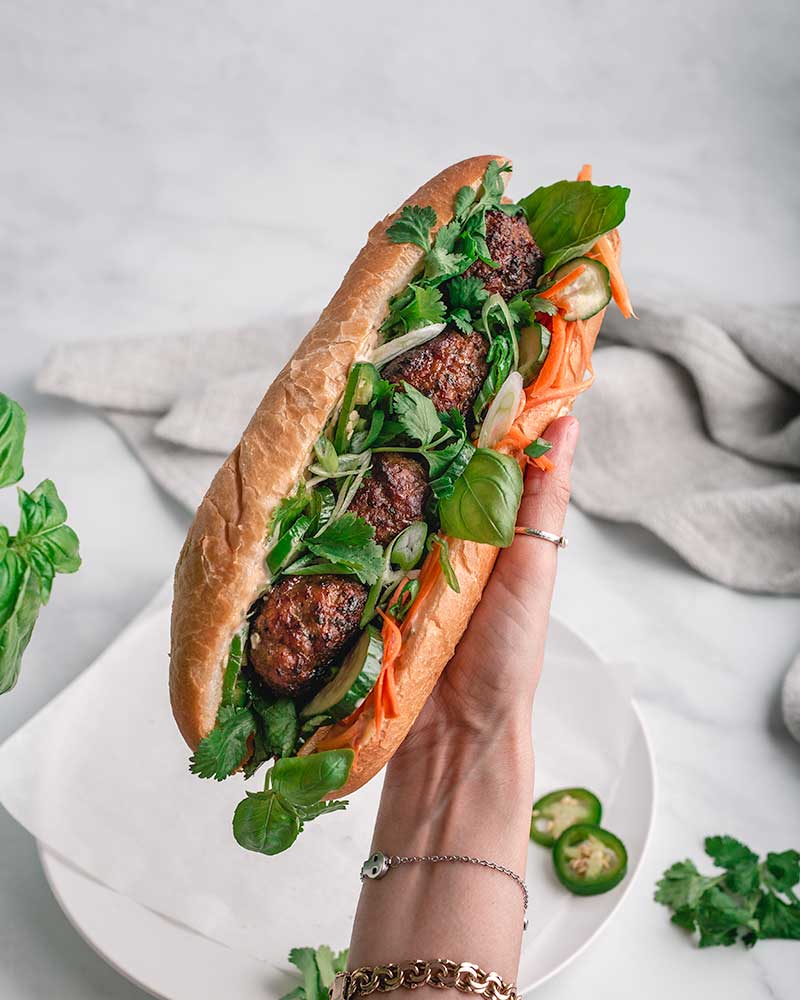 For 2–4 Banh Mi (Depending on the bread size you will pick)
INGREDIENTS:
4 medium size, crusty breads or 2 little baguettes
8–12 pork meatballs
Pickled vegetables
Spicy basil mayonnaise
Fresh coriander
Fresh basil
Jalapenos sliced
Green onion chopped
For the Pork Meatballs
1 pound ground pork
3 garlic cloves minced
1 egg 
1 cup bread crumbs
2 green onions finely chopped
1 ½ tbsp fresh coriander finely chopped
½ tbsp fresh grated ginger
1 tsp sesame oil
1 ½ tbsp oyster sauce
1 tbsp fish sauce
1 tbsp honey
1 tbsp soya sauce
1 tbsp cornstarch
PREPARATION:
In a large bowl, use your hands to combine all the ingredients together. 
Preheat the broiler.
Shape the pork meatballs. About 1 ½ inches size. Place them on a cookie sheet. 
Bake them in the preheated oven for about 12–15 minutes. Midway, flip the meatballs on their other side. Be careful not to burn them. You can also shake the pan a couple of times during the cooking process.
For the Spicy Basil Mayonnaise
1 cup of homemade mayonnaise (Commercial mayonnaise works perfectly as well, so us your favourite one.)
Zest and juice of 1 lime (About 2 tbsp lime juice)
1 tbsp honey
2 tbsp fresh basil finely chopped
Sriracha sauce to taste but don't be shy, it's a spicy mayonnaise, and it's soooo good!
* In a bowl, mix all the ingredients together. Cover and save in the fridge for later.
For the pickled vegetables
1 cup carrots julienned
1 cup sliced cucumber
½ cup daikon julienned (I'm not a huge fan of daikon because when you make a bigger batch of pickled veggies and keep it in the fridge, after a very short period of time, they start to smell like hell. But this is just my opinion HA-HA-HA) That being said, if you eat them all the same day, it's simply delicious!  
¼ cup Mirin sauce
¼ cup rice vinegar
1 tsp sugar
* In a bowl put the mirin sauce, the rice vinegar and the sugar. Mix until the sugar is dissolved. Add the carrots, the cucumber and the daikon to the marinade. Toss to coat, cover and let marinate in the fridge for about 3 hours. 
BANH MI PREPARATION:
OK now that you have all your ingredients, you are ready to make the best Banh Mi ever!!! (Still my opinion HA-HA-HA but you let me know your thoughts when you'll try them.)
You can toast lightly the inside of your bread on a grill or in a fry pan with butter. I like it but it's up to you! It's not an obligation. You can also simply wrap them in a paper foil and warm them in the oven at 400 F for about 5–8 minutes. If you do that don't forget to pre-cut your bread because they will be hot and softer so … they will be hard to cut.
Now it's time to build them and you're the boss!!! 
You don't need me anymore!! You do your Banh Mi the way you want and you put the quantity you want of each ingredient. Us, we love them BIG!! Oh yessss baby!! I put a lot of delicious spicy basil mayonnaise, pickled veggies, pork meatballs, Jalapenos and I top with lots of fresh coriander, fresh Basil and green onions. 
OH GOD It tastes like heaven!
Have fun doing you Banh Mi guys but more … have fun eating it!!!
Love you!!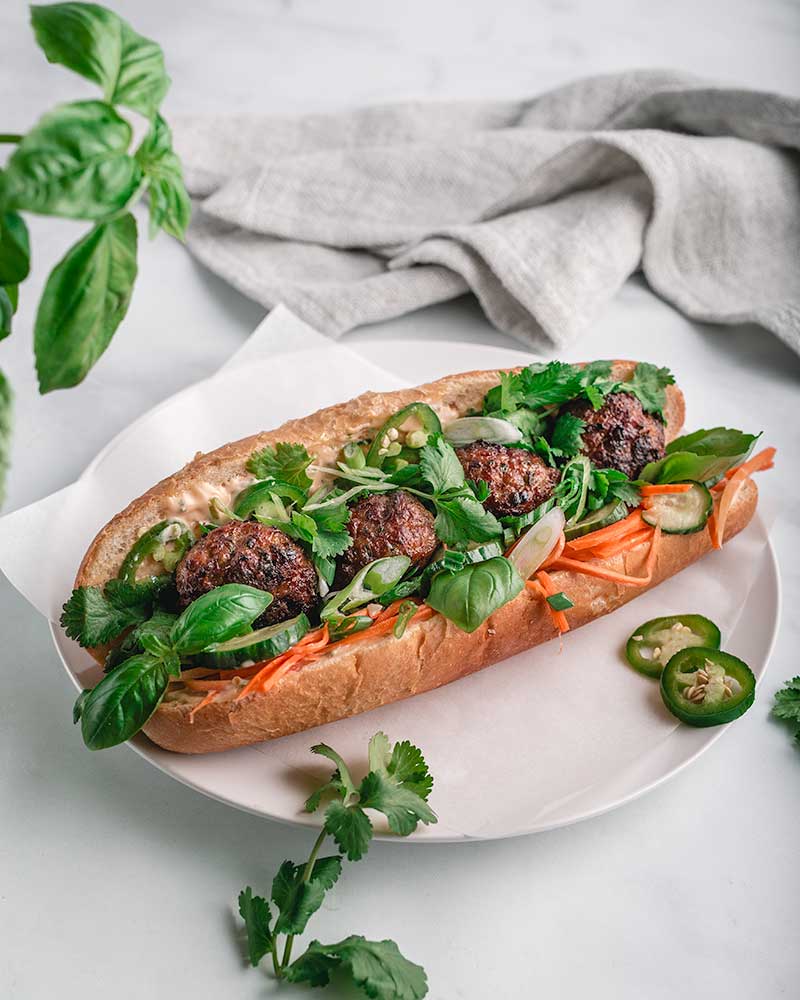 You can find below a little selection of items for cooking and for home decor. Some I already have and some are in my wish list.