The first time I saw Khachapuri it was on Instagram. I thought it was one of the coolest things to eat I ever saw. I didn't know what it was at this moment. I did some research and I discovered that Khachapuri was a typical meal from Georgie. Apparently Khachapuri are everywhere there. You can find many versions of this popular meal but if you ask me, as soon as I saw, cheese, eggs and butter I was conquered and there was no need to look further… I had to try! HA-HA! I guess you're beginning to know us a bit now. This is totally our type of food.
OH! And if you're confused about the pronunciation, you go like this! Catch-A-Puri
As simple as that! HA-HA-HA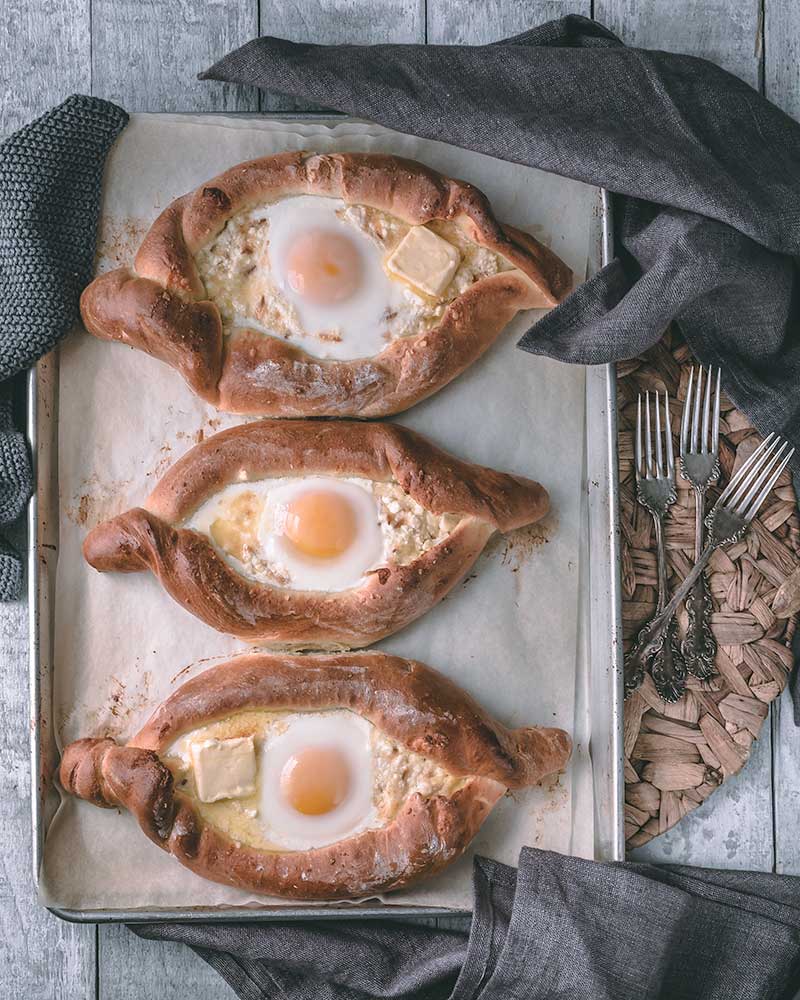 For 3
INGREDIENTS:
For the dough
3 cups unbleached flour sifted (All-Purpose)
1 cup milk (I always use whole milk to cook and bake) lukewarm (110 to 115 degrees)
¼ cup water, lukewarm (110 to 115 degrees)
1 tsp sugar
2 tsp active dry yeast
1 tsp fine sea salt
1 tbsp olive oil
Toping
Sulguni Cheese. It's the one used originally, but as I can't find some, I use a mix of other cheeses and believe me it's absolutely delicious.
200 gr Feta cheese crumbled (Choose a really good one it will make a big difference)
1 cup Mozzarella cheese grated
1/2 cup Smoked Mozzarella grated
3 eggs + 1 for brushing
3 tbsp unsalted butter at room temperature
PREPARATION:
In a bowl put the lukewarm milk, lukewarm water, sugar and add the yeast. Let the mix aside until foaming. About 5 minutes.
Combine the sifted flour the salt and the olive oil in a mixer fitted with a dough hook. As soon as your yeast mixture is foamy, add it in the bowl too and beat at low speed to combine all the ingredients. It will take about 2 minutes. Increase the speed to medium speed and let it go for about 8 minutes. I also love to put a bit of "elbow grease" so sometimes I just knead on a floured surface for 8 minutes. It's not an obligation to use a mixer.
Put the dough in a lightly greased bowl (I use olive oil) and cover with a wet dish towel. Let rise in a warm place for 1 hour until it doubles in size.
Meanwhile in a bowl mix the feta, the mozzarella and the smoked mozzarella cheeses. Reserve.
Preheat the oven to 450 °F
Prepare a baking sheet with parchment paper.
On a lightly floured work surface, punch down the dough and divide it in 3 equal pieces. Roll each piece into oval shape.
On your baking sheet, divide the cheese on top of the three pieces of dough. Put the cheese in the middle and try to leave some free space to make the crust borders.
Roll both opposite sides toward the centre in order to get a boat shape with an approximative 1 inch thick border. Don't worry if some cheese gets in the roll … it will only give flavours to the crust. Now bring the two ends together, tuck the tips under and twist them 360 degrees so it sticks.
Whip one egg and brush the Khachapuri border crust.
Bake for about 15 minutes until the Khachapuri looks golden and fluffy. Get out of the oven and then, with a spoon, dig a little hole in the middle of the cheese to make some room. Break one egg on each Khachapuri and return them in the oven for another 5 minutes to cook the eggs.
Divide the unsalted butter on the Khachapuri and let melt. You can put more if you want. Butter is life!
Serve the Khachapuri on beautiful plates and now, it's time to play.
The way it's supposed to be eaten: Break the egg yolk with a fork and mix it with the cheese, the egg white and the melted butter. Then take pieces of crust and dip it in. Et voilà! It's an insane recipe. So good and so fun to eat. In my opinion, this recipe can be for a brunch, a lunch or a dinner, it doesn't matter. The only thing that should dictate when you make this recipe is if you have a craving.
Bon appétit les amours!
Love you
Sefra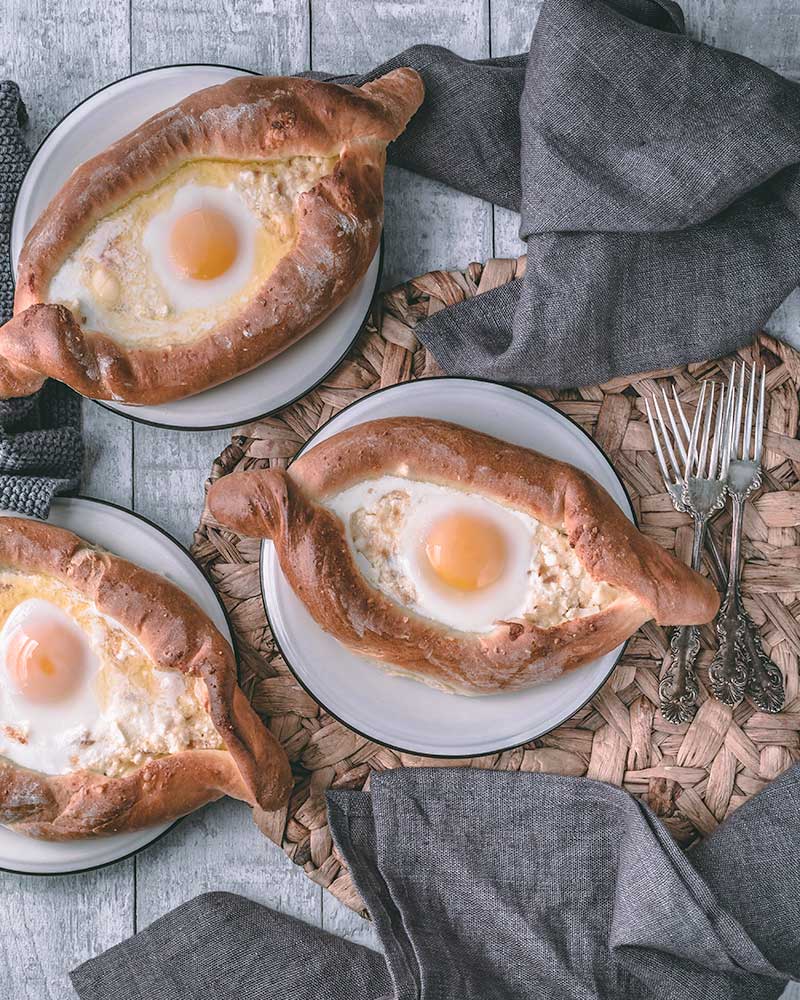 Here's what you gonna need to make this recipe. I also add some beautiful accessories to present it.