I've really been missing my family lately. Almost all of them live in Sweden and I don't have the chance to see them a lot. I love them really bad! When I go to visit, our favourite thing to do is, of course, to practise Sweden's national sport… FIKA!!! HAHAHA It consists of sitting for hours, having one or ten coffees and bakeries. Can't get any better.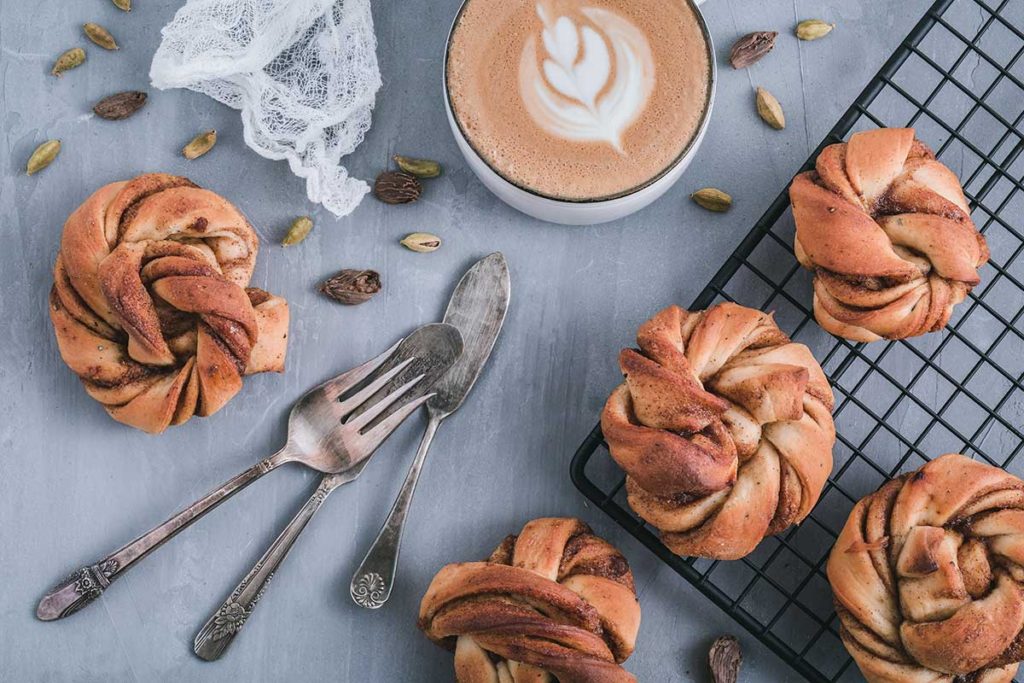 One of the best part is that some of my family members own coffee shops. They love Fika so much that it became their career. HAHAHA! My favourite places are in Göteborg. The Kafé Zenit and the Adams Café who are absolutely lovely. Both of them are totally different, but I feel like home in both. With its little vintage side, the Kafé Zenit makes you think of an artist's place. It's the kind of coffee shop that you could find in Williamsburg, Brooklyn. Before, all the pastries were made by one of the best bakers I know. My dear cousin Helena. It no longer belongs to the family but I still love that place a lot! Adams Café is in a shopping centre (sooooooo convenient) HAHAHA It's a gorgeous place where you simply want to spend the entire day. It's like a vortex. You go in and when you get out you realize that the shopping centre is closed and you totally forgot to buy what you were there for. You spent hours and hours having fun and having Fika! One thing you must know about Adams Café is that when you go, you have to be starving. They make the best and the biggest salads. I wish they could deliver in Quebec! HAHAHA I'm drooling every time they put new pictures on their Instagram feed. Also, if you get lucky, you will be served by one of my lovely cousins, Madeleine, Jacqueline or Kenora. There are also many chances for you to see Adam, their father. He is always around, making sure that everything is fine and all customers look happy. God! I miss them!
So that's why today I was feeling for Swedish Buns. Kardemummabullar make me travel and make me feel a little closer from all the ones I love and miss in Sweden. They are so many… I have a big, big, big family there. I am the little black sheep here alone in Quebec HAHAHA
Here's the Instagram handle for Adams Café.
So please if you happen to be in Sweden, go there and enjoy a salad for me. Ask for my family and tell them how I much love them! Oh! And enjoy your Fika time lucky you!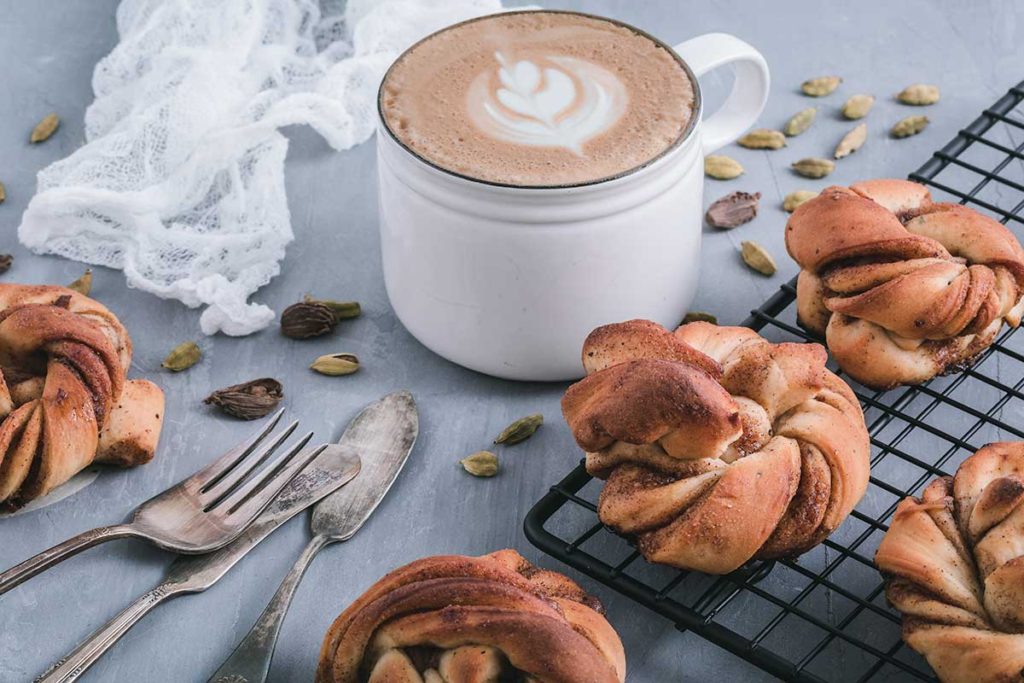 INGREDIENTS :
For the dough
3 cups unbleached flour sifted (All-Purpose)
1 cup milk (I always use whole milk to cook and bake) lukewarm (110 to 115 degrees)
1/4 cup unsalted butter softened
1/3 cup brown sugar
1 tsp sugar
1 ½ tsp active dry yeast
1/4 tsp fine sea salt
1 tsp ground cardamom seeds. I mix black and green cardamoms seeds. I love the taste of the black cardamom. The little smoky side pairs perfectly.
For the filling
1/4 cup melted unsalted butter
1/2 cup brown sugar
2 tsp ground cinnamon
You can put more cardamom if you want. Swedish people put A LOT but I wanted to mix it with cinnamon.
Mix the butter with the brown sugar and the cinnamon in a little bowl. Save for later!
For the topping (glaze)
1 tbsp hot water
4 tbsp honey
The seeds of 1/2 vanilla pod
Mix all the ingredients together and reserve for later!
PREPARATION:
In a bowl put the lukewarm milk, the sugar and the yeast. Let the mix aside until foaming. About 5 minutes.
Combine the sifted flour, butter, brown sugar, ground Cardamom seeds and salt in a mixer fitted with a dough hook. As soon as your yeast mixture is foamy, add it in the bowl too and beat on low speed to combine all the ingredients. It will take about 2 minutes. Increase the speed to medium speed and let it go for about 8 minutes. I also love to put a bit of "elbow grease" so sometimes I just knead on a floured surface for 8 minutes. It's not an obligation to use a mixer.
Put the dough in a lightly greased bowl (I use butter) and cover with a wet dish-towel. Let rise in a warm place for 1 hour until it doubles in size.
Prepare a baking sheet with parchment paper.
On a floured surface push down the dough and roll until you have a rectangle. The dough must be thin. Like 2.5 millimetres. The rectangle must be around 21 x 14 inches size.
Spread the filling with a spatula on the dough. You must cover the entire surface.
On the large side (21 inches) make a mark every 7 inches. You will have 3 parts. Fold the left side in order to reach the middle and then fold the right side over the left side.
Rotate the dough 90 degrees so you get the opening on the right and left side.
With a sharp knife, cut the dough from left to right into 15 to 20 slices. Your strands must be around 2.5 cm width.
Take a strand and twist couple of times outward. Hold one end of the strand between your thumb and your other fingers. With your other hand, wrap it around your fingers. Going over the bun, tuck the end of the strand in the bottom to make some kind of a knot. Repeat with all the strands.
It's not easy to explain but you know what…no matter the shape they have, they will all be fantastic and unique.
Place your Kardemummabullar on your baking sheet and cover with a dish towel. Let rise 30 minutes.
During this time, preheat the oven to 425°F.
Put the Kardemummabullar in the oven for 8 to 10 minutes until they are golden brown.
When they are ready brush them with the honey and vanilla glaze. Let them cool a bit and while you wait, make yourself a wonderful latte. Happy Fika!
Love you!!! ♡
Sefra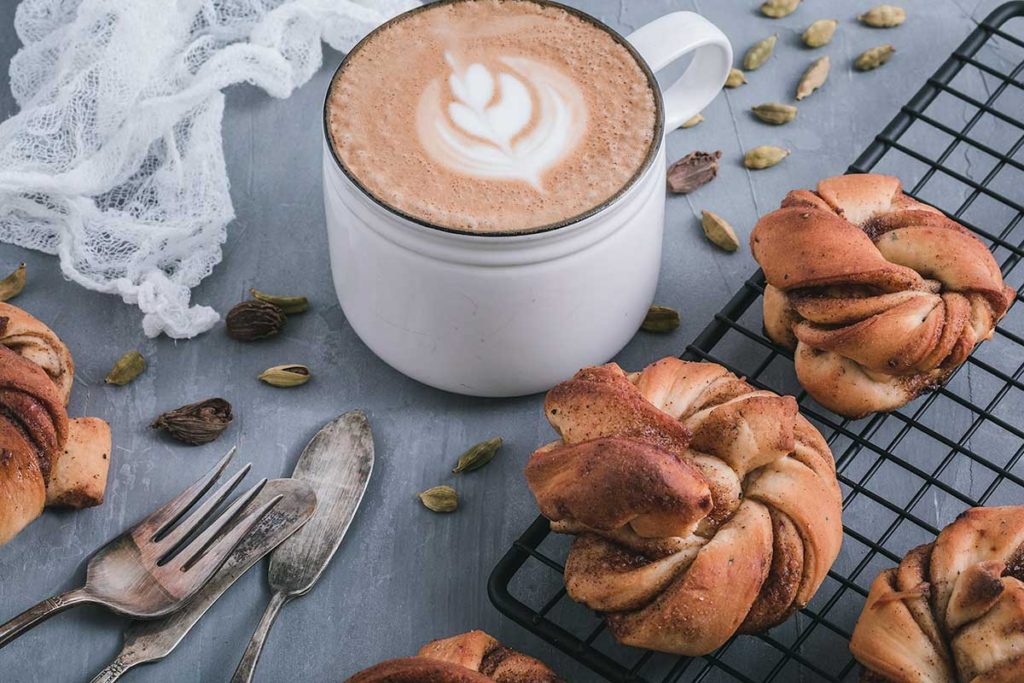 I built up that list of accessories to help you to have the best Fika time you can imagine!