The Italian wedding soup arrived in my life about 15 years ago. My uncle had a sandwich shop in Quebec City and he used to serve this soup as an appetizer. It was not a homemade soup (Shame on him … it is so easy to make HA-HA-HA) but it didn't matter, I was in love with the flavours, the simplicity and the lovely little pasta (that were always overcooked … lol). So, as we all know that everything homemade is always the best, I decided to make my own.
There you go! It's the simplicity itself! 20 minutes, that's all it takes to take you to heaven! I really hope you will enjoy it!!!
For 4–8
(Depends on if you are making the Italian wedding soup for your main course or for an appetizer.)
INGREDIENTS:
For the meatballs:
225 gr ground beef
225 gr ground pork
2 eggs
½ cup freshly grated Parmigiano
¼ cup seasoned Italian breadcrumbs
2–3 cloves of garlic finely chopped
2 tbsp fresh basil finely chopped
⅓ cup fresh parsley finely chopped
Fine sea salt and black ground pepper
I love to add some aged shredded cheddar… But it's to your discretion! What can I say.. I'm a cheesy girl!! HA-HA-HA
For the soup:
10 cup chicken broth
8 oz fresh spinach
100 gr Ancini di Pepe pasta 
Fresh grated Parmigiano and fresh basil to serve
Fine sea salt and black ground pepper
PREPARATION:
In a large bowl, mix all the ingredients for the meatballs and shape them into balls of about 1-inch-diameter each.
Place the meatballs on a backing sheet or a large plate.
In a large pot, bring the chicken broth to a boil at medium-high heat and then add the uncooked meatballs, the Ancini de Pepe pasta and the fresh spinach. Season with the fine sea salt and the black ground pepper. Let simmer for about 10 minutes or until the pasta is perfectly cooked. I mean al dente… If you've been following us for a while… You know the rules, right?? HA-HA-HA 
Et voilà! Soup is ready!
Serve the Italian wedding soup in beautiful bowls and add fresh grated Parmigiano and fresh basil to garnish. You will have an amazing time!
You can easily enjoy this soup as a complete meal. I love to make the Italian wedding soup when I want to feel comfy. It's in the comfort food category for me. I like to accompany it with a gorgeous fresh Italian bread, some of the greatest cheese and a good glass (Ok… Bottle HA-HA-HA) of red wine! This is paradise for me!!
Bon appétit! Love you!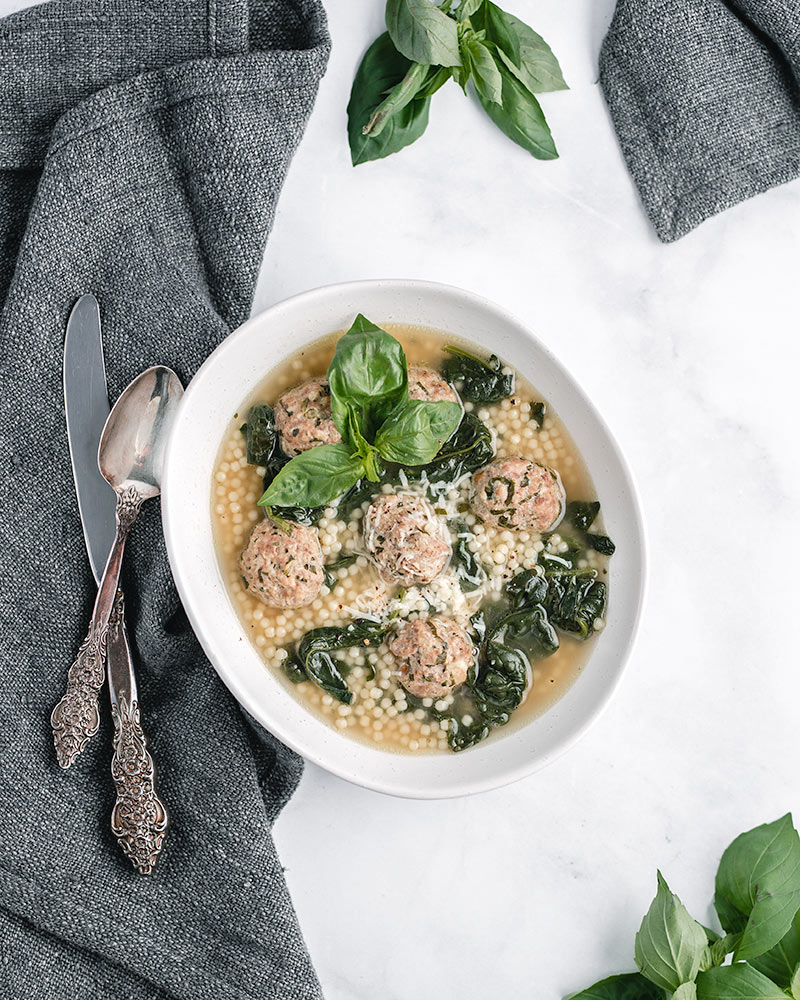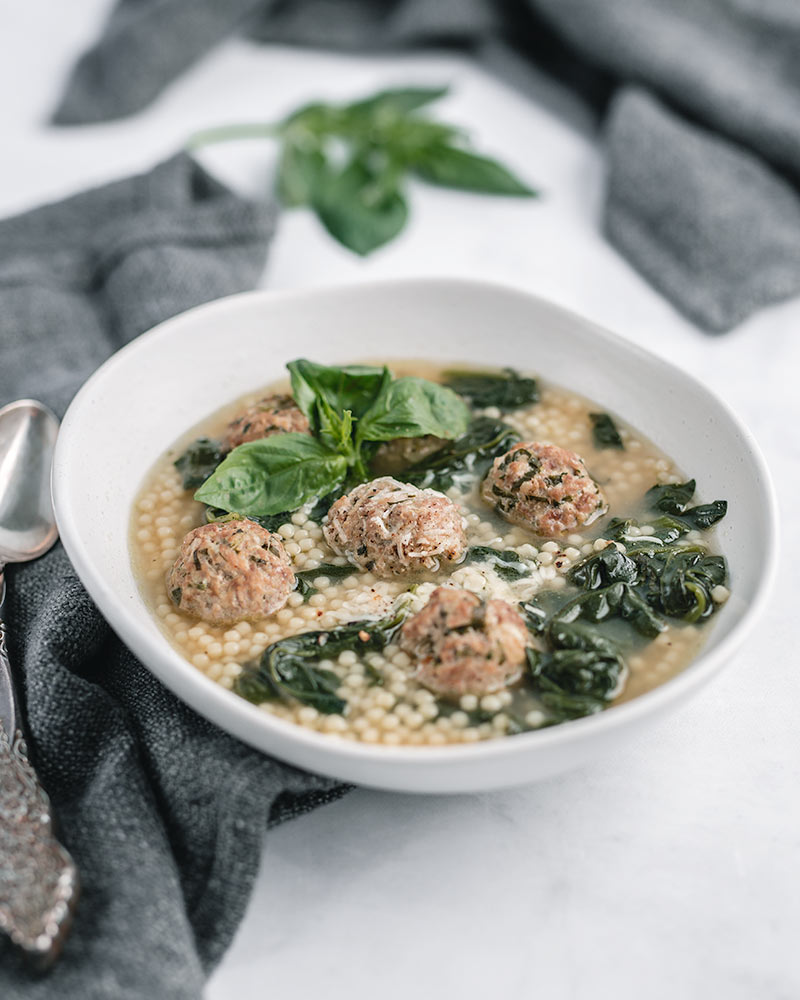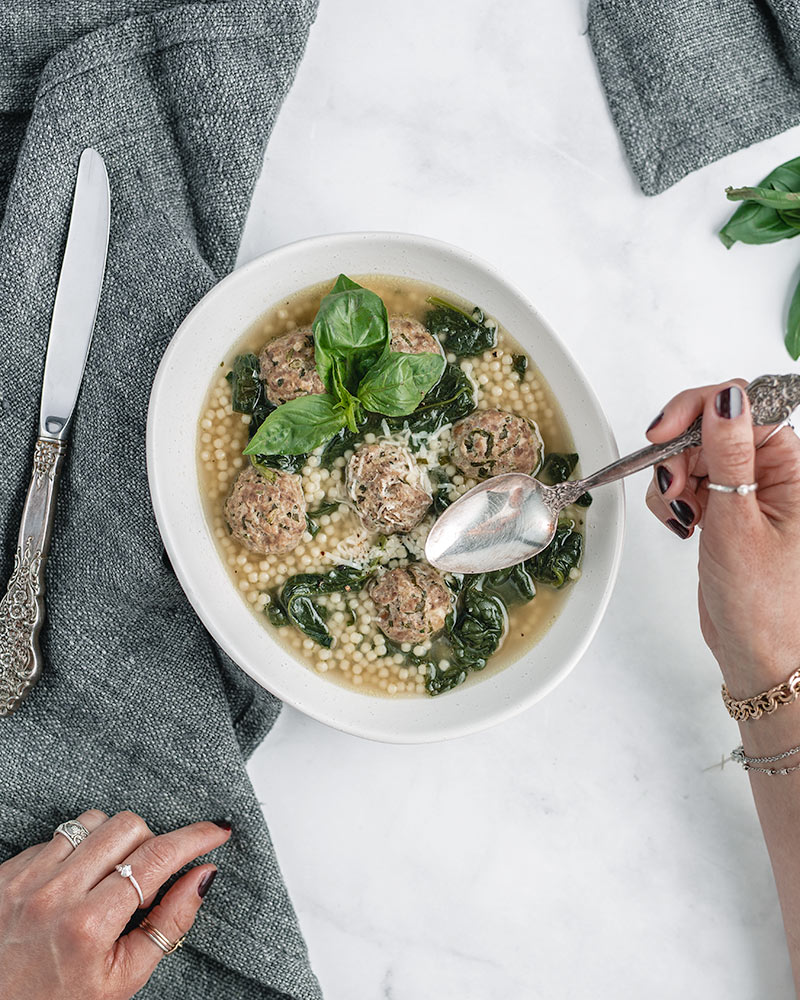 As always, here's a little list of items you should love to enhance your interior and kitchen!! Enjoy your shopping!