For me, this recipe is 100% French and it reminds me of all these amazing times we had when we were in France. French cuisine is one of my favourites. It's true that French cuisine is most of the time very technical but not this recipe. As I'm not a professional cook and because I love comfort food, I prefer simple dishes. In my opinion, they are the best! Most of the greatest chefs out there developed their passions and learned their skills when they were young. Playing and running around their mother and grandmother in the kitchen when they were cooking. They were soaked in all these cooking traditions and all this know-how that's shared from generation to generation. Comfort food evokes the pleasure, the warmness and the happiness linked to our childhood.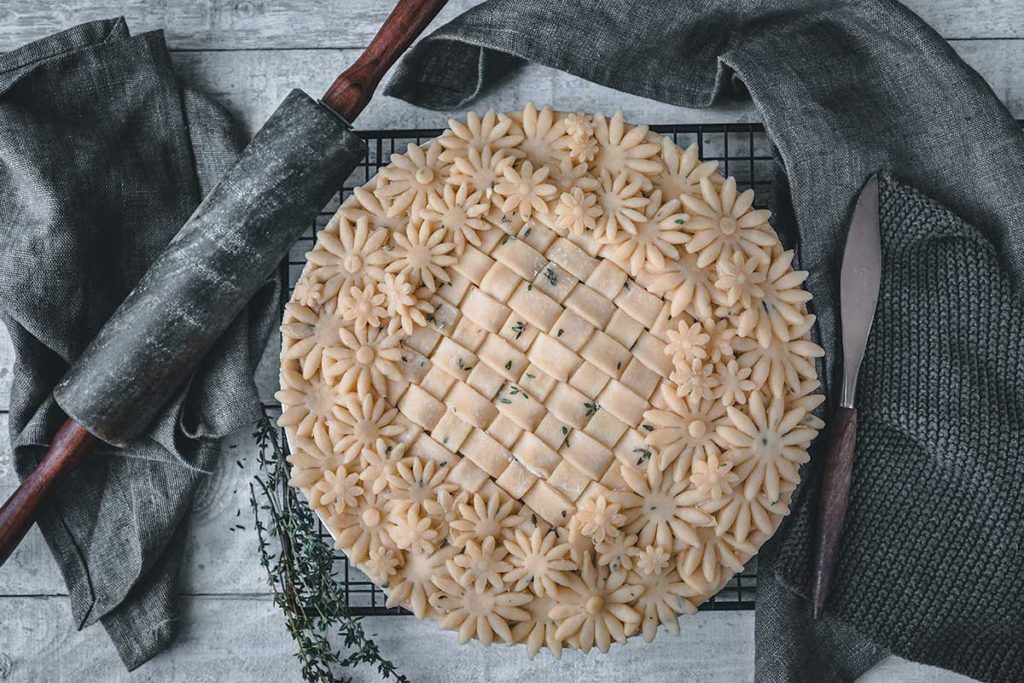 INGREDIENTS:
2 Confit duck legs, skinned off and shredded
2 tbsp olive oil
4 strips of thick bacon sliced at about ¼ inch wide
2 onions sliced in thin half slices
4 garlic cloves minced
6 potatoes sliced into thin slices
200 gr strong old cheese grated (Comté and cheddar are good choices)
1/4 tsp ground nutmeg
1/2 tbsp Fresh thyme
Fine sea salt and black ground pepper
Crust
2 ¼ cup unbleached flour sifted (All-Purpose)
1 cup unsalted cold butter and cut into pieces
1 egg
1/2 tsp fine sea salt
6 tbsp cold water
1/2 tbsp Fresh thyme
 For brushing
1 egg yolk
2 tbsp whole milk
Mix the egg yolk with milk and save.
PREPARATION:
In a bowl, place the flour the salt and the butter. With a pastry cutter, cut the butter into the flour until it has a grainy texture.
Add the egg, the fresh thyme and the water, and mix until the dough looks shaped. Do not over knead.
Wrap the dough in a plastic wrap and put in the fridge for 1 hour.
Meanwhile in a large skillet, brown the bacon in the olive oil at medium-high heat. Add the onions and reduce the heat to medium low. Stir constantly and cook slowly until the onions look lightly golden and then add the minced garlic. Continue to cook about two minutes and turn off the heat. Reserve.
Preheat the oven to 400 °F.
Split the dough in two parts and roll them until you get two circles of about 5 mm thick.
Put one circle of the crust in your pie mould.
Start to make a layer with your potato slices. Use the third of your potatoes. Add the bacon, onions and garlic mixture. Continue with the second third of potato slices to make another layer. Add the shredded duck confit, the fresh thyme, the grated cheese and continue with the last layer of potato slices. Use all your potato slices. Don't forget to season every layer properly with fine sea salt and black ground pepper.
Sprinkle the ground nutmeg on top of the last layer.
Cover with the other crust.
Make an incision in the centre of the pie to let the steam out. Seal the crusts together. You can use your fingers or a fork.
Brush with the egg yolk and milk mixture.
Bake for about 50–55 minutes until the Tourte is golden and potatoes are tender.
Cool a bit and voilà.
You can use this recipe for a brunch, for lunches or dinners. No matter the time of the day, no matter who's your guests because this Tourte is simply delightful. With the mix of flavours of all these fantastic ingredients, this simple meal will be transformed into a 4-star moment. HA-HA! I'm so cheesy … as always! But believe me it will become one of your classic recipes.
Bon appétit!
Love you
Sefra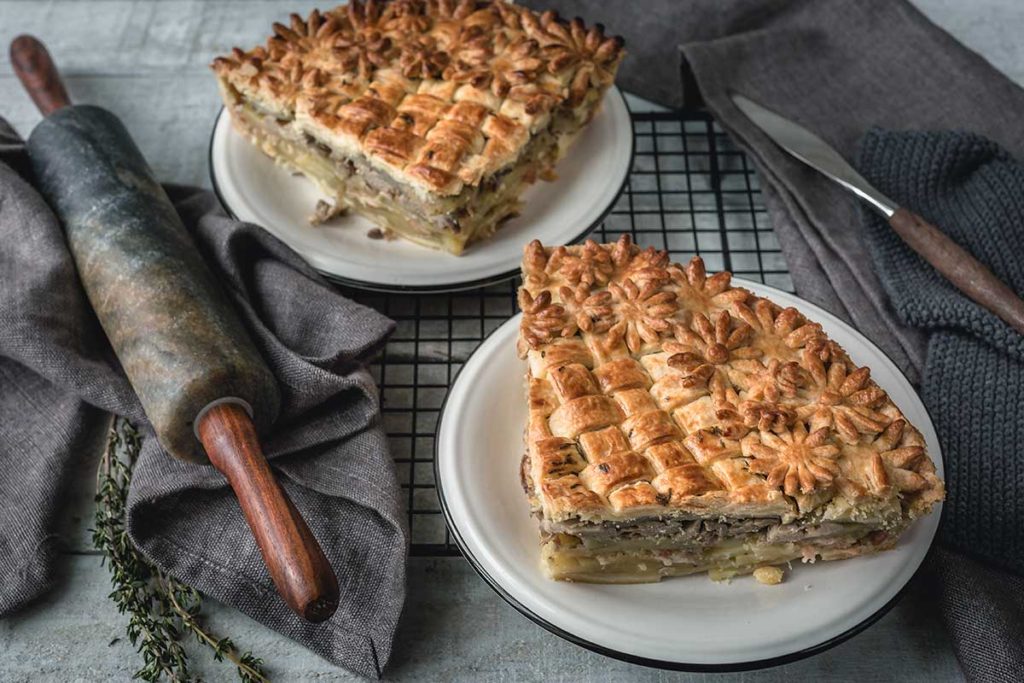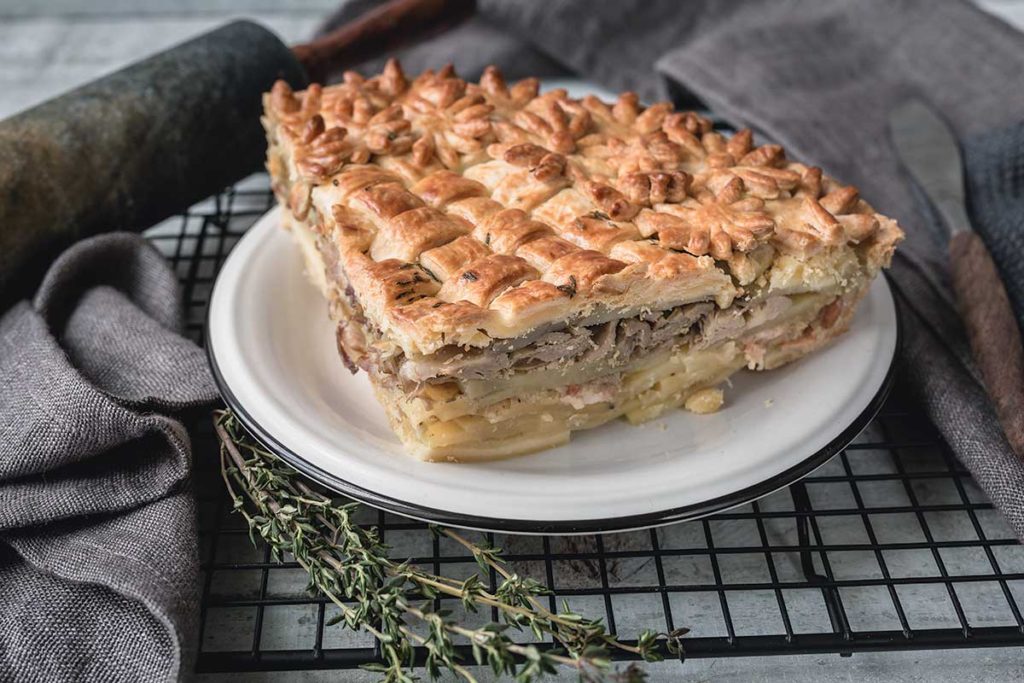 You can find below a little selection of items for cooking and for home decor. Some I already have and some are in my wish list.  I leave the link here for the little moulds I bought to make my tourte. You can also find bigger sets or smaller, at this point you choose what you like the most!