Hello loves, it's been a while since I put any recipe here. Sorry about that. We were busy at preparing our trip to Bordeaux. As it's a long trip, about 3 months, it was a lot of preparation. Now we are perfectly installed in Bordeaux so I won't let you down anymore. I swear! To be forgiven I go with sweet treats here! HAHAHA I know how to be forgiven… Right?
Did you ever been in a winter or Christmas outside market? You know the smell that makes you drool? The one you are following without having any control on the rest of your mind.. Most of the time, it's churros they're making. I love to eat them while walking outside. It warms both my heart and my hands! HAHAHA It's a guilty pleasure. And what about that smell… AMAZING!
INGREDIENTS:
1/2 cup unsalted butter
1 cup water
1 cup sifted unbleached flour
2 tbsp sugar
1 tbsp brown sugar
1/4 tsp fine sea salt
1 tsp vanilla
2 eggs
Topping:
1/4 cup sugar
1/2 tsp ground cinnamon
Combine together and set aside.
For the cooking oil you can use your favourite one with neutral flavour.
PREPARATION:
In a medium saucepan, combine water, butter, sugar, brown sugar, vanilla and salt. Over medium-high heat bring to a boil.
Remove the saucepan from heat and add the flour. With a wooden spoon, stir constantly until it forms a ball. Add one egg at the time and whisk vigorously. It should become a smooth batter.
Put the batter in a piping bag fitted with a rounded star tip. You can choose the size you want it will only change the cooking time a bit.
Put enough frying oil in a medium-large skillet to make sure the churros will be covered. Heat the oil at high heat. (About 375F°) If you want to know if the oil is ready, put a piece of bread in and if it becomes golden, it's time.
Cut the churros the longer you want straight in the hot oil and cook for about 5 minutes or until it looks very crusty. The inside must be perfectly cooked.
Remove the churros from the oil with a slotted spoon and put them on a large plate with paper towels to absorb the excess of oil. Sprinkle with your mix of sugar and cinnamon that you reserved and repeat the operation until all the churros are done.
Voilà!! Bon appétit! Super easy, simple and delicious. Now you can also choose if you want more topping. Chocolate, Dulce de leche … no matter what … you will have a blast!
Love you
Sefra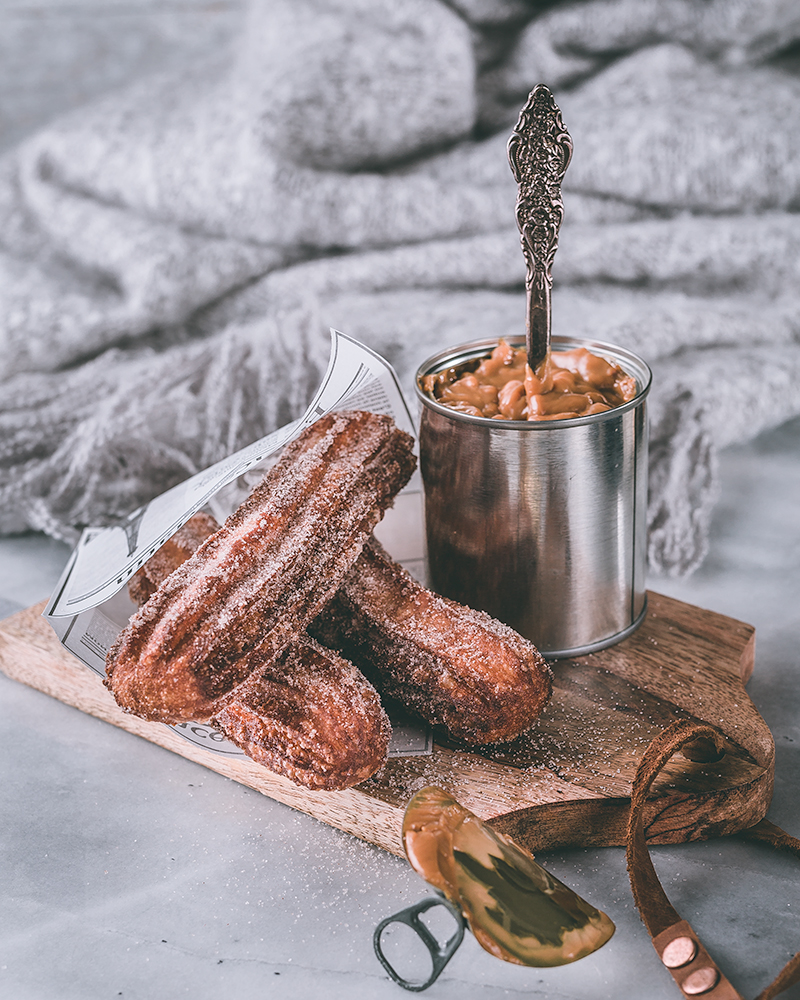 You can find below a little selection of items for cooking and for home decor. Some I already have and some are in my wish list.