If you are following our Instagram account, no need to tell you that eggs are huge part of our menus. If I could, I would eat eggs every day. A good way I found to eat them as often as I can, is to mix them with all my other favourite ingredients. HA-HA-HA This time it's with asparagus, butter and Parmesan cheese. WOW!!! Those four ingredients are simply perfect together!
For 4
INGREDIENTS:
40 asparagus (10 for each person)
4 eggs
1/4 cup unsalted butter (for the asparagus)
2 tbsp unsalted butter (for the sunny-side up eggs)
Fresh grated Parmesan cheese
Fine sea salt and black ground pepper
PREPARATION:
Clean carefully your asparagus and remove the woody ends. Don't cut them with a knife, it's better to break them with your fingers. That way you will truly remove all the woody part, no more no less.
In a large skillet melt the butter for the asparagus over medium heat. Drop the asparagus in the melted butter and cook for about 5 minutes. You'll see, the colour of the asparagus will change. They have to be tender but still crispy. It's my favourite way to eat them. Season with fine sea salt and black ground pepper.
Meanwhile, in another skillet, melt the butter over medium-low heat. Break the eggs into the melted butter and be careful not to break the yolk. Let cook slowly. You don't want them to be over cooked. You still want to be able to cut them only with your fork and you want to use the egg yolk as a dipping sauce for the asparagus. If you think that they cook too fast, just reduce the heat a bit.
When all the egg whites' seams coagulated and are set, season with the fine sea salt and black ground pepper.
Split the asparagus on four beautiful plates. Drop an egg on each bunch of asparagus in every plate.
Pour all the melted butter over the eggs and asparagus. Sprinkle with the fresh grated Parmesan cheese. Don't be shy … please be generous!! HA-HA-HA
Add some fresh greens if you want and enjoy my loves! Simply delicious! Break the egg yolk and dip your asparagus in it. With all the melted butter around, it's almost indecent how perfect it is!
Love you!!!
Sefra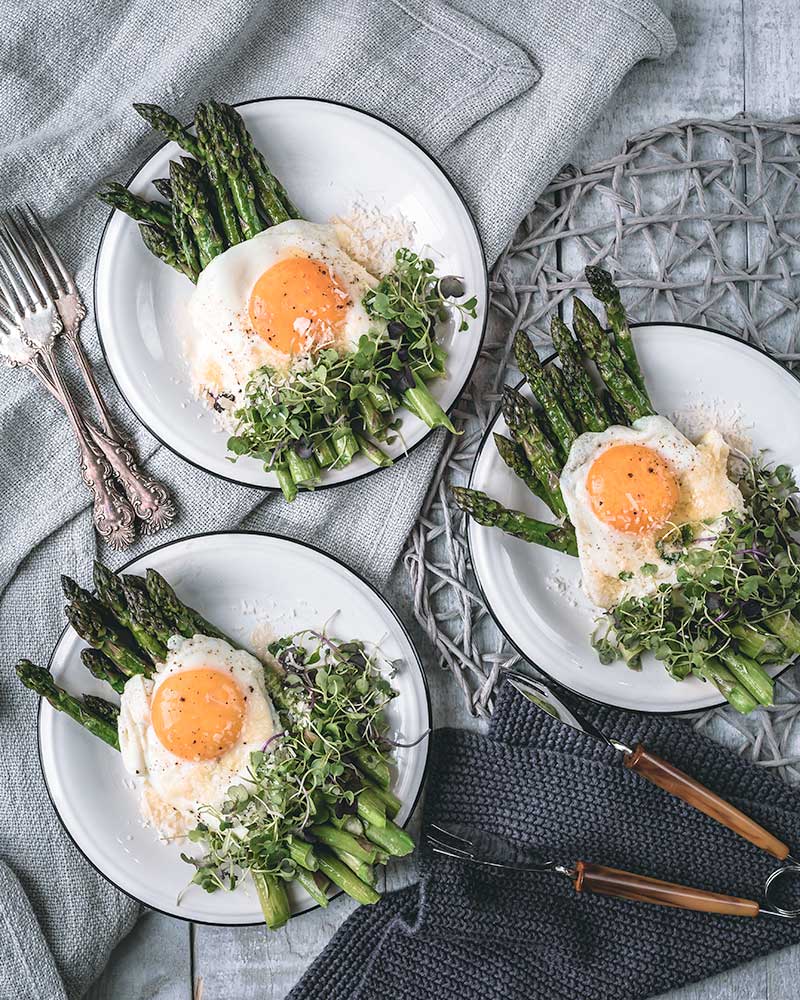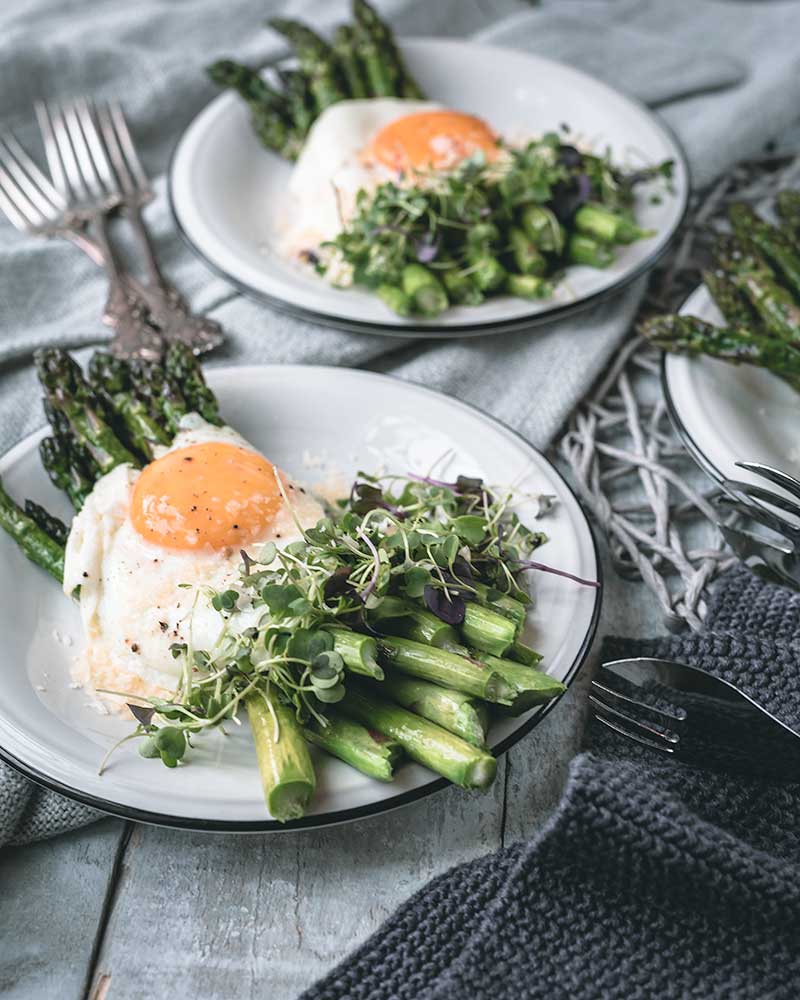 Cooking with style surely is a thing and don't worry, I got you covered! This is a selection of tools, kitchenware and other cool stuff to make this recipe or just to complete your personal collection.