Since we are pasta addicts, you will see plenty of them on the blog but today, let's talk about Carbonara. What a simple and easy recipe. When you start with the first bite, it's almost impossible to figure how fast you can make this amazing dish! OK I ear from here all Italians purists screaming "' What?? Garlic?? It's not bacon but pancetta, why the white wine and blablabla??" My answer … because it's delicious and because every classic may be tweaked a bit sometimes.
This is a lovely portion for two peoples.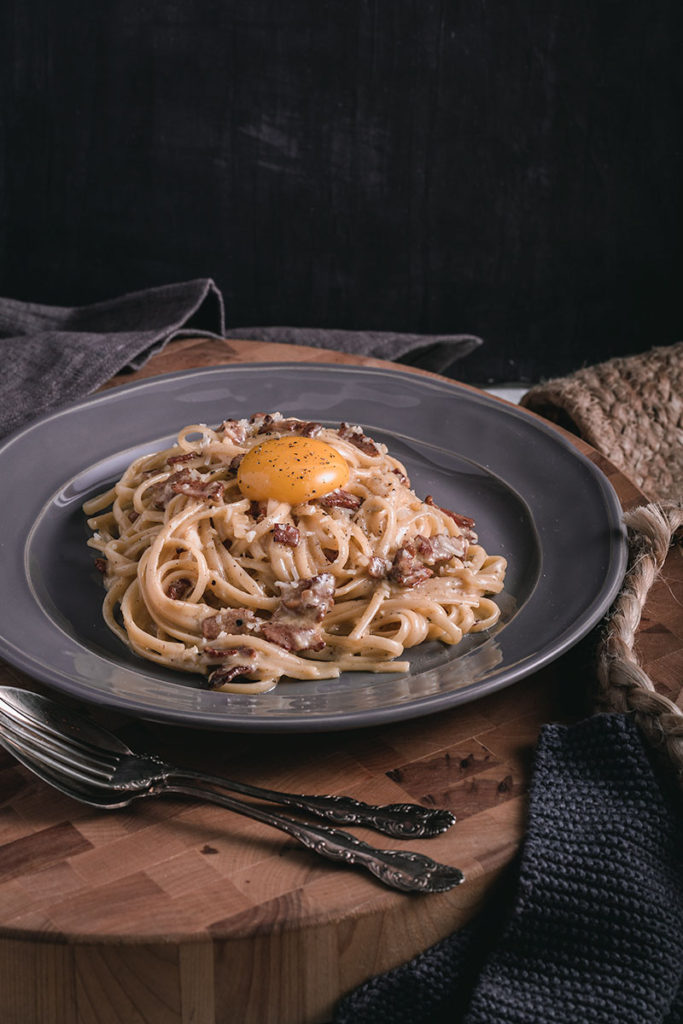 INGREDIENTS:
250 gr of pasta I use spaghetti for this one
2 tbsp of olive oil for the sauce and some more for the pasta
4 strips of thick bacon sliced at about ¼ inch wide
4 garlic cloves, minced
1/2 cup of dry white wine
1/2 cup of 35% cream
1/4 cup of Parmigiano cheese and more for the topping
2 whole eggs plus 2 egg yolks for the topping
Fine Sea salt and ground black pepper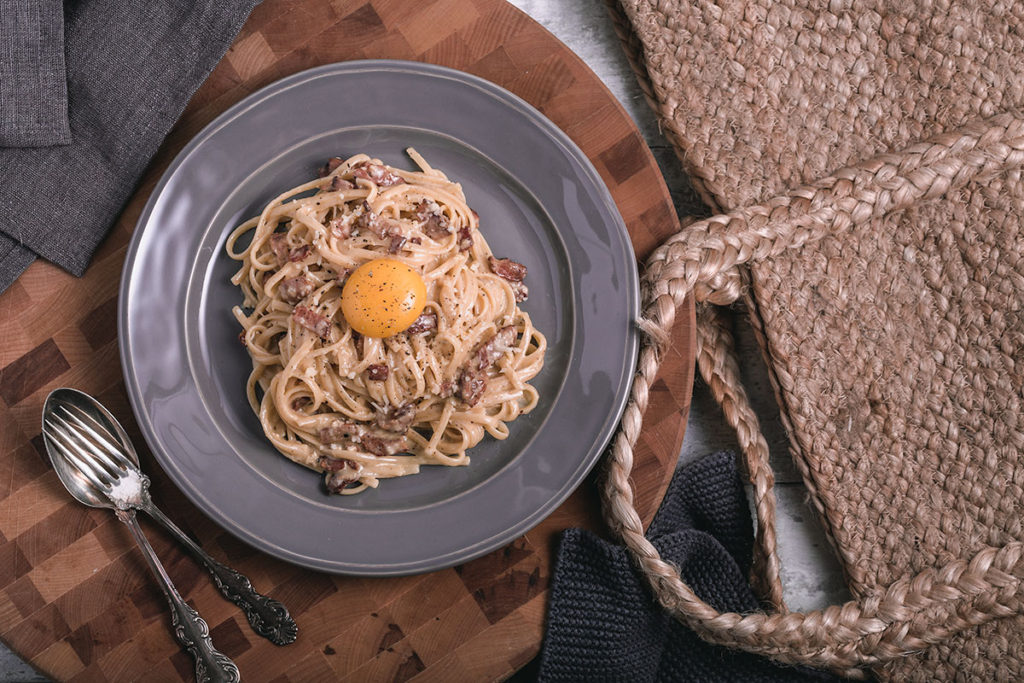 PREPARATION:
In a large pot bring water to boil with a little amount of olive oil and cook the pasta until they are perfectly cooked … and by that I mean al dente. Nothing worst then over-cooked pasta. When it's done, drain the pasta and return them into the pot. I always season with a bit of salt, and I put a good amount of olive oil in the pasta. About ¼ of a cup.* It's a trick I always use. Most of the time people will save cooking water for the same reason and I use it too sometimes but I prefer using olive oil. For me it's the best way not to serve dry pasta. Pasta is like little gourmand sponges and if you're not careful, they will drink all your sauce. With my trick your sauce will just coat the pasta! Perfection!
Meanwhile, in a large skillet, brown the bacon in the olive oil and then add the minced garlic. Stir and add the white wine. Don't brown the garlic. Reduce the wine until almost dry. Add the cream and the Parmigiano. Season with salt and pepper.*About this … lots of people have a hard time to know how to season. I think that salt is one of the most important ingredients in a recipe. It will make a difference between an ordinary dish or a delightful one. Salt will always enhance all the flavours. So, go little by little if you don't trust yourself and taste.
Pour the pasta into the skillet with the sauce and stir to combine. Keep on low heat. Break both whole eggs in the pasta. Stir constantly until the eggs are perfectly combined in the sauce and lose their glossy texture.
Adjust seasoning and serve in beautiful plates. Add one egg yolk on the top of all the plates and sprinkle with Parmigiano and ground black pepper!
Bon appétit!!! Love you!
Sefra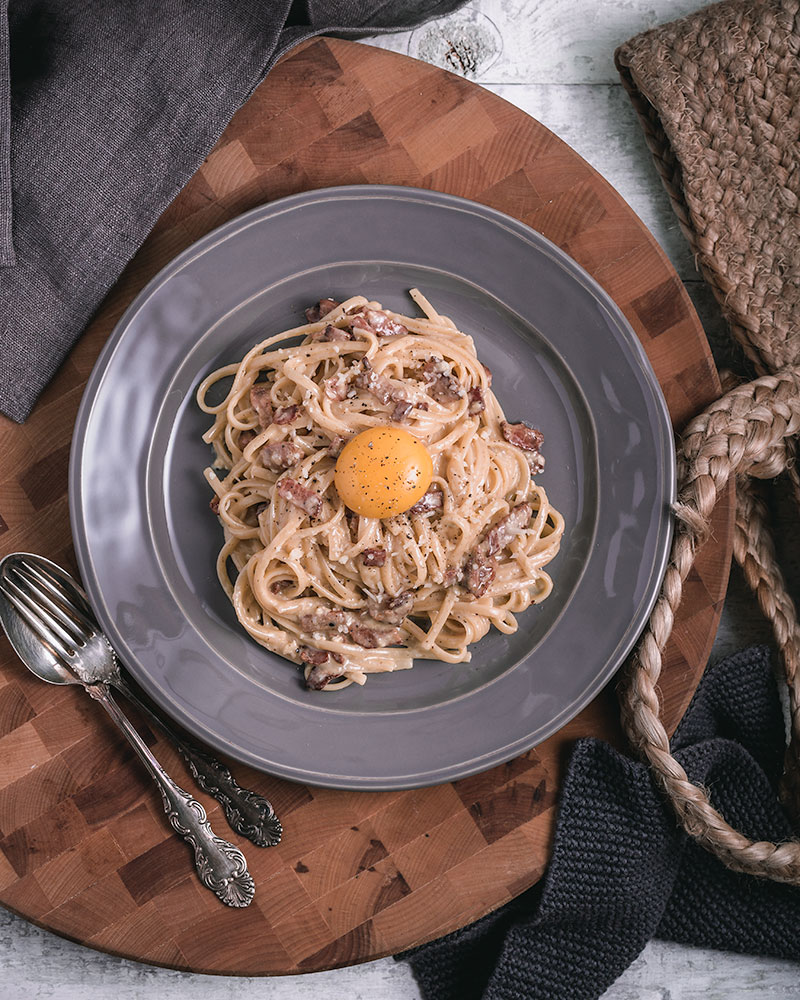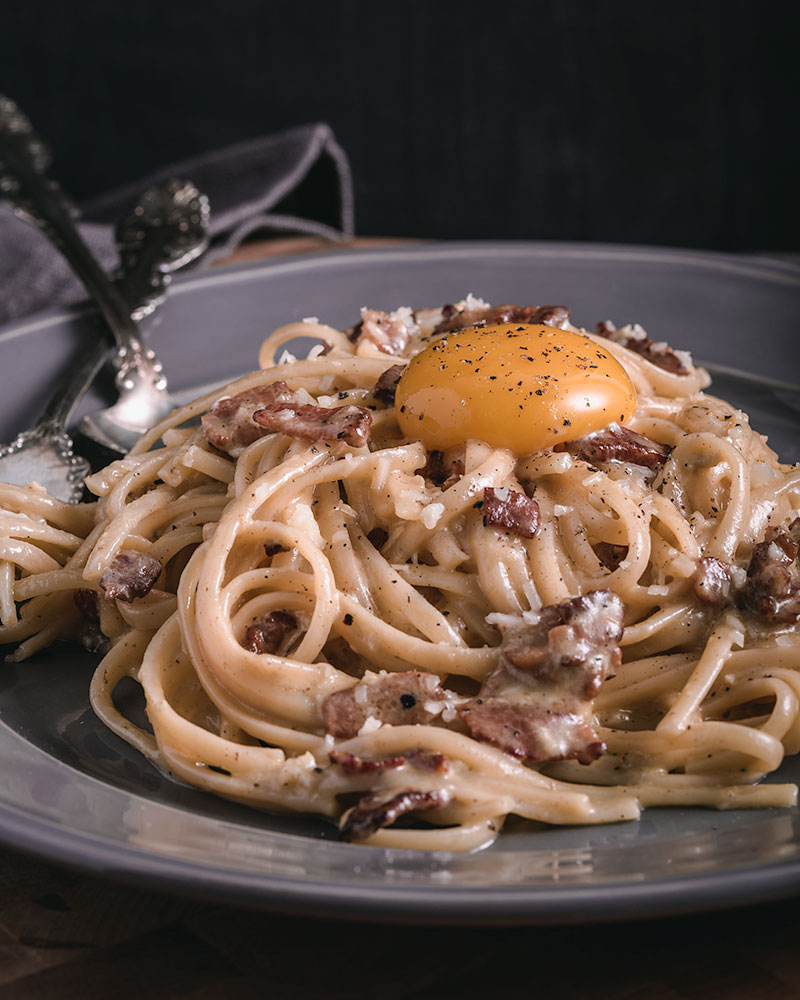 And just because I'm sure like me you want the best for your kitchen and table, these are some suggestions for your personal collection.