Japchae is a very popular Korean dish. It's a festive meal and they serve it during their biggest holidays. For me, every day should be holidays so, I try to have Japchae as often as I can! HA-HA-HA Plus, it's so easy to make and it's absolutely delicious. The funny part is that you can enjoy it cold or hot. You decide! Honestly I prefer to eat it hot. All ingredients are individually prepared and cooked so it makes it even more simple. 
For 2–4
As I always say… Depends of your appetite lol. Jean-Félix and I eat for four.
INGREDIENTS:
400 gr Glass noodles
300 gr Rib eye steak cut into strips
2 Carrots julienned
4 oz Spinach blanched (I always prefer to make them in a skillet with a little amount of oil but at this point you do what you prefer).
1 Onion sliced 
2 Green onions chopped
1 Egg white and yolk beaten separately
4 Fresh Shiitake (Not an option for us!!! The drama of my life as you know… Jean-Félix hates mushrooms. So I will put it as optional HA-HA-HA) 
Neutral oil of your choice for stir fry
Beef marinade:
1 ½ tbsp dark soy sauce
½ tbsp Mirin
1 garlic clove finely chopped
Mix all the ingredients into a bowl.
Sauce:
2 garlic cloves finely chopped
4 tbsp soy sauce
2 tbsp brown sugar
1 tbsp sesame oil
1 tbsp roasted sesame seeds 
Black ground pepper
Mix all the ingredients into a bowl.
PREPARATION:
Put the Rib eye steak strips into the marinade and mix well. Cover your bowl and reserve in the fridge until you are ready to stir fry.
Meanwhile in a large pot, bring water to a boil and cook the Glass noodle following the instruction of the package. About 8–10 minutes. When it's done, drain the pasta, rinse under cold water to stop the cooking process and return the Glass noodles into the pot. Add the sauce and mix well. Reserve until you are ready to stir fry.
Aside, get a big mixing bowl that can receive all your ingredients.
In a large non-stick skillet heat your neutral oil. About 1 tbsp and start stir fry all the ingredients separately.
 I start with the white eggs following by the yolk. It will take about 1–2 minutes to cook. Cut them in tiny slices and then add them to your mixing bowl.
I follow the process in this order. Onions and carrots. Will also take 1–2 minutes each to stir fry. Add to the mixing bowl.
(If you're using Shiitake lucky you, it's time HA-HA-HA) and continue with the Marinated Rib eye steak strips. Will take about 2–3 minutes each to stir fry. Add to the mixing bowl.
Finally, stir fry the Glass noodle in the sauce. Will take about 3–4 minutes. Add to the mixing bowl.
Don't forget to add more oil when the skillet is getting dry between each ingredient.  
Now add your spinach to the other ingredients in your mixing bowl. 
Mix gently with your hands or with plating tongs. If you're using your hands, be careful not to burn yourself. Some ingredients will be hot!
Et Voilà! You have your Japchae.
I love to add some fresh green onions chopped on top of it and a bit more sesame seeds.
As you see it's a lot of little steps but it's really simple and easy to make. If you put the same amount of love in every little step, you will have the best Japchae ever! You will really enjoy it, I swear! You can serve Japchae as an appetizer, as a meal, hot or cold! So many opportunities. I LOVE opportunities! HA-HA-HA
Bon appétit guys!
Love you!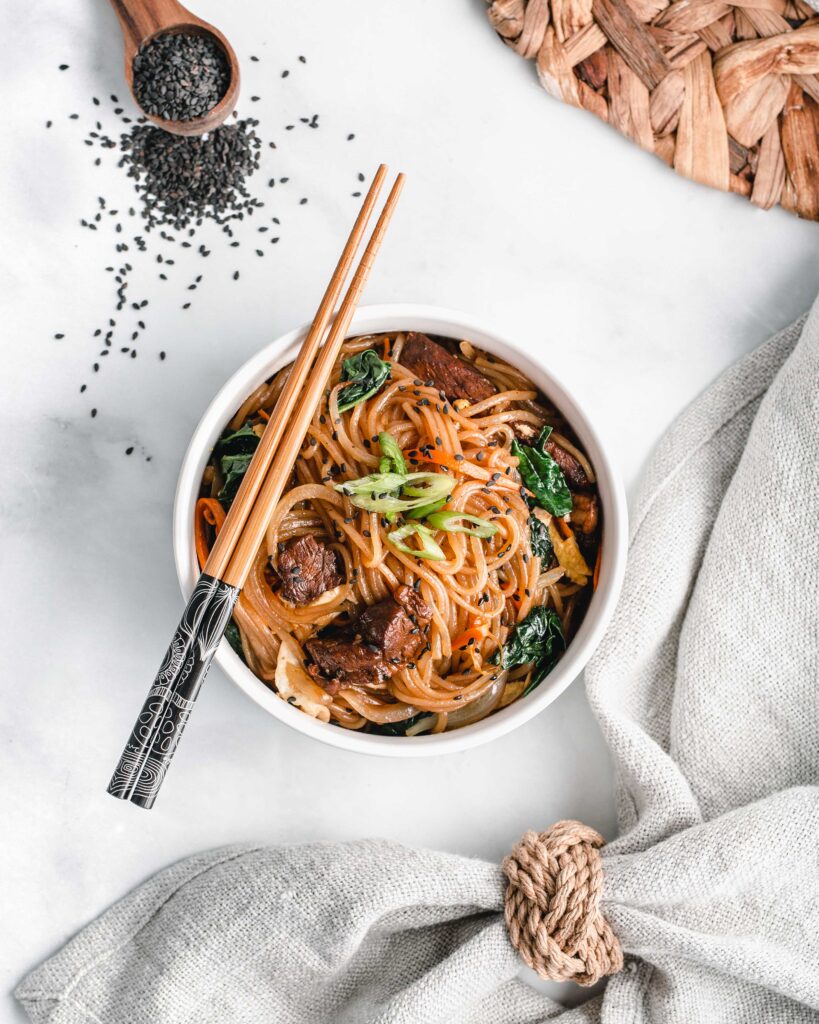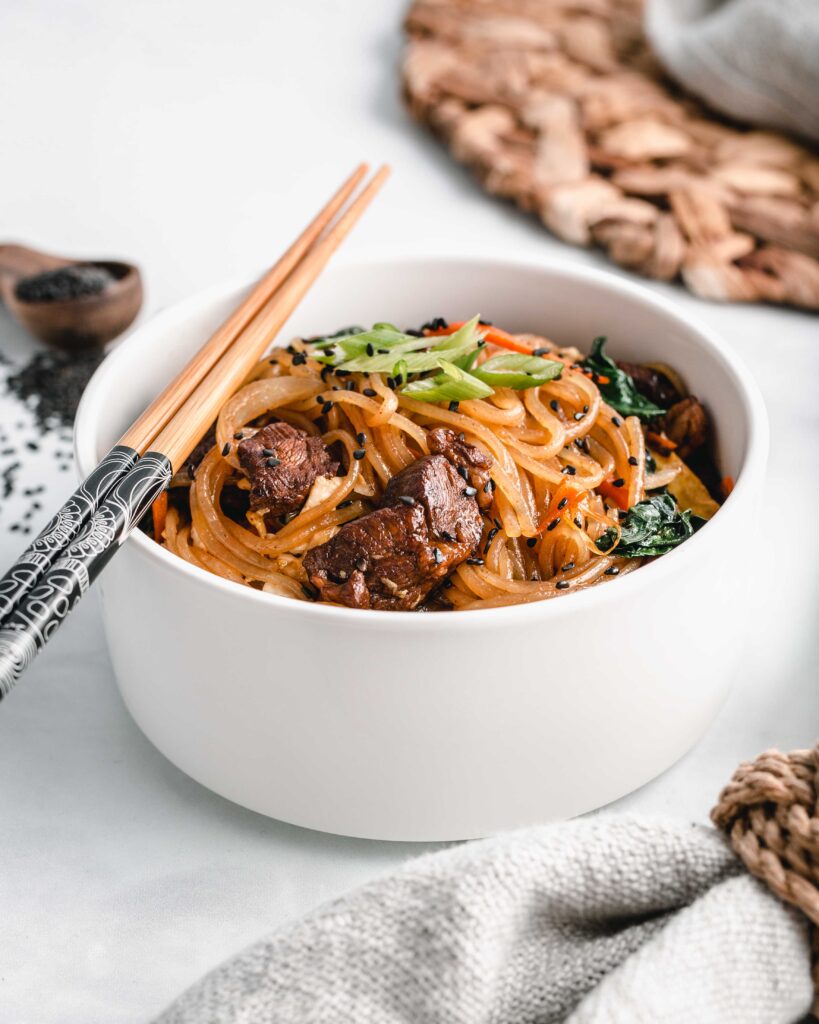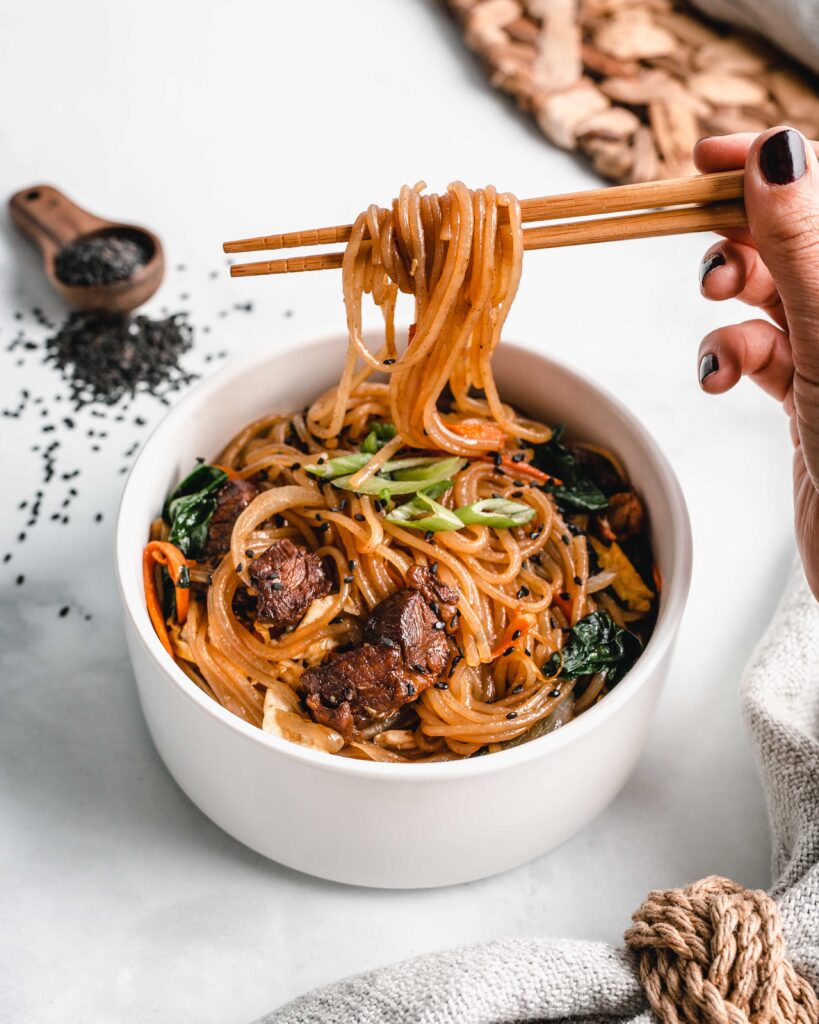 Cooking with style surely is a thing and don't worry, I got you covered! This is a selection of tools, kitchenware and other cool stuff to make this recipe or just to complete your personal collection.