Being stuck home made me try a lot of stuff I never tried before. The global crisis we're facing right now makes me feel like I need to be comforted and there is no better way for me, to bring a bit of joy, happiness and feeling of lightness than cooking some good recipes. It works all the time! As I miss Bordeaux really bad these days, and because it will probably take quite a long time before we can return, I decided to bake something that will bring me back in France. Bread and chocolate… Can't ask for better!
For 8 Benoîtons
INGREDIENTS:
Bread dough
1 ½ cup semi-sweet chocolate chips
½ cup roasted hazelnuts coarsely chopped
confectioners 'sugar for topping
For the bread dough
2 ⅓ cup unbleached flour sifted (All-Purpose)
2 tbsp milk (I always use whole milk to cook and bake) lukewarm (110 to 115 degrees)
1 cup water, lukewarm (110 to 115 degrees)
1 ½ tsp active dry yeast
1 tsp sugar
1 tsp fine sea salt
PREPARATION:
1- In a bowl put the lukewarm milk, lukewarm water, sugar and add the yeast. Set the mix aside until foaming. About 5 minutes.
2- Combine the sifted flour and the salt in a mixer fitted with a dough hook. As soon as your yeast mixture is foamy, add it in the bowl too and beat on low speed to combine all the ingredients. It will take about 2 minutes. Increase the speed to medium speed and let it go for about 8 minutes. I also love to put a bit of "elbow grease" so sometimes I just knead on a floured surface for 8 minutes. It's not an obligation to use a mixer.
3- Put the dough in a lightly greased bowl (I use butter) and cover with a wet dish towel. Let rise in a warm place for 1 hour until it doubles in size.
4- Prepare a baking sheet with parchment paper.
5- Preheat the oven to 425 F.
6- Punch down the dough and divide it in 8 equal pieces. Shape them in balls.
7- Divided the chocolate chips and the hazelnuts into each dough balls.
8- With your hands on a lightly floured work surface, roll each balls until the shape looks like a long thin baguette. Try to keep the chocolate chips and the hazelnuts inside the Benoîtons.
9- Place them on the baking sheet.
10- Put in the oven for about 10 minutes. They should be soft inside and lightly brown outside.
11- Let cool a bit the Benoîtons and then sprinkle with confectioners 'sugar. 
Et voilà! The perfect snack exactly like if you were in France. I'm pretty sure you will love it! It is so good and so fun to eat. For breakfast with your tea or coffee, for the snack or just as a dessert. These little Benoîtons will warm you up. Be careful, after the first bite, it's really hard to stop! HA-HA-HA
Love you guys and please.. Stay safe!!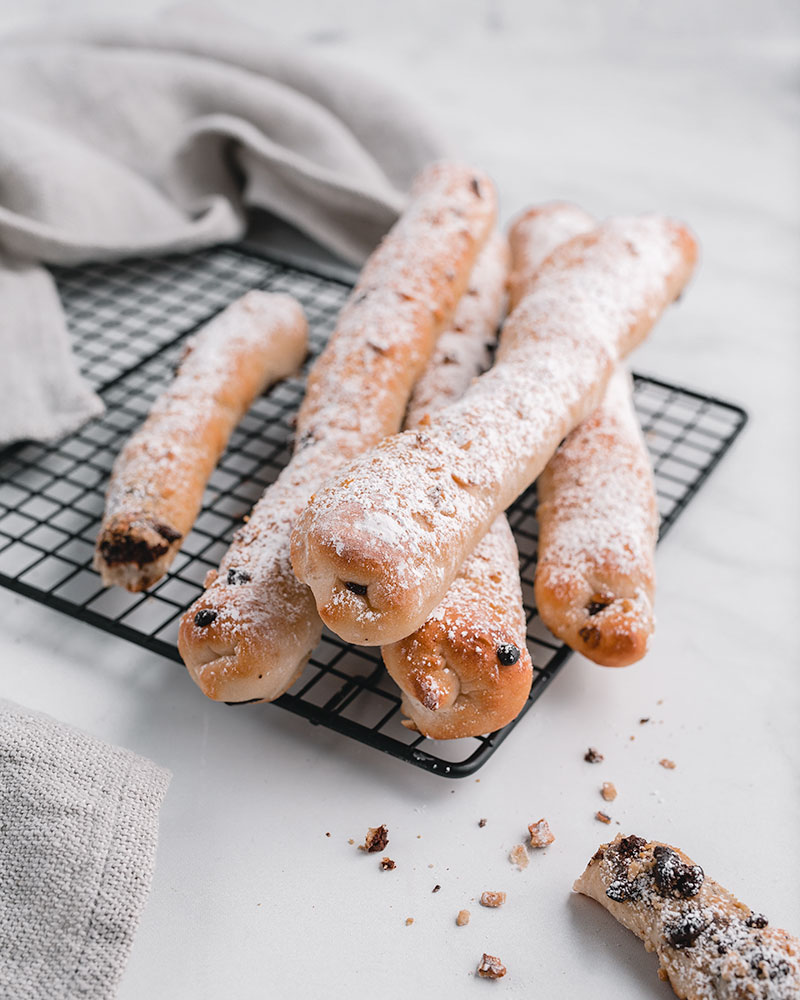 Cooking with style surely is a thing and don't worry, I got you covered! This is a selection of tools, kitchenware and other cool stuff to make this recipe or just to complete your personal collection.