Roasted Chestnut is a true little weakness for me. It means all at once festivities, holidays, coziness and treats. It's a seasonal wonder. As soon as I'm travelling within the good season, I always look around me when I walk on the street in hoping to find some stands where they roast some on the spot. It makes me so happy to buy my little bag of chestnut and eating them walking in a new country, exploring at the same time. The last time I ate some during a trip we were in Porto. What a lovely memory!
So here we are … back in the cold Quebec City. To warm my heart, I decided to make me some house made roasted chestnuts. Of course, as you start to know me now … I love butter A LOT so, I put some! Why? Because butter is LIFE!!
INGREDIENTS:
1 Kg Fresh Chestnuts
¼ cup melted unsalted butter
Fine sea salt
PREPARATION:
Soak the Chestnuts in a bowl of hot (almost boiling) water for 30 minutes and after that drain them. It will help to roast perfectly without burning too fast.
With the rack in the middle position, preheat your oven to 400 F.
Using a sharp knife, carefully cut the shell making a linear incision on the round side or make an x-shaped on the lower side. The result is almost the same except for one thing, if you make the cut on the round side, it they will be easier to peel.
Place the chestnuts in a bowl and then add the melted butter. Mix well and put them on a baking sheet with culinary parchment. Sprinkle with fine sea salt. Put in the oven for 25–30 minutes until the shells curl up.
Let cool down just a little bit and there you are! A total blessing!
Enjoy!!
Love you!
Sefra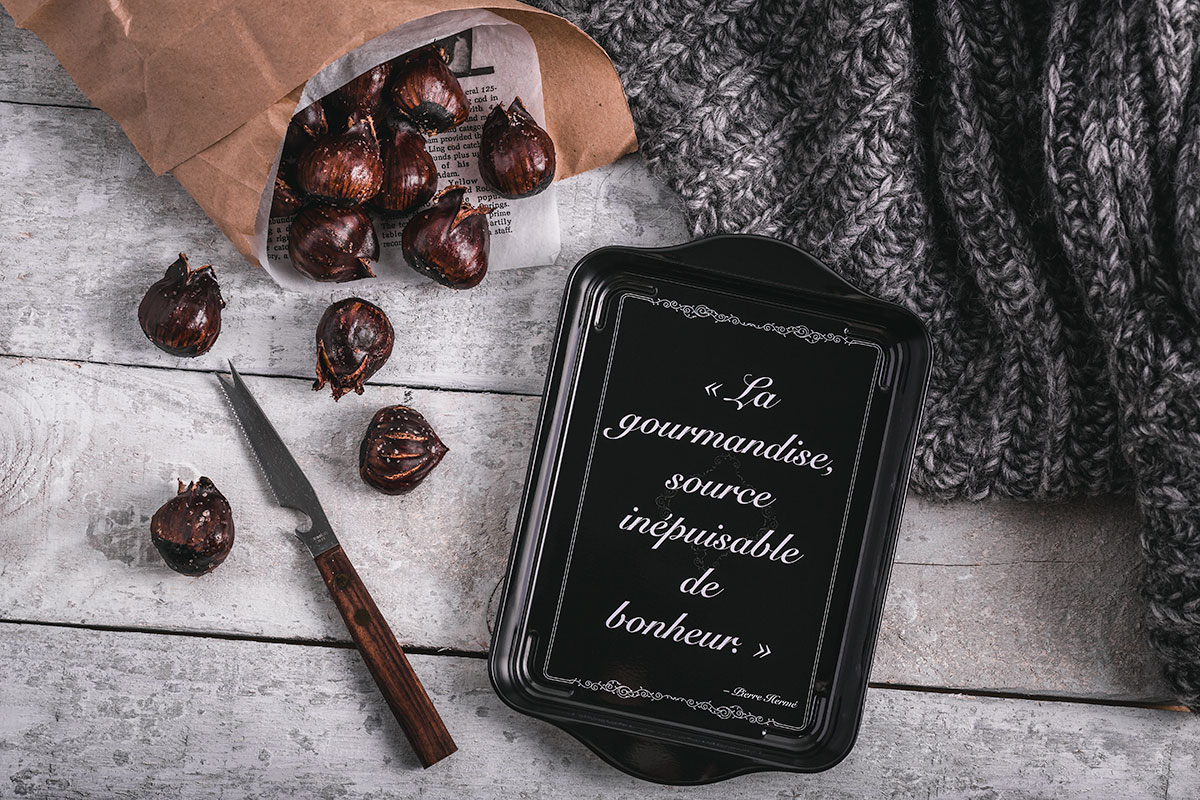 Cooking with style surely is a thing and don't worry, I got you covered! This is a selection of tools, kitchenware and other cool stuff to make this recipe or just to complete your personal collection.