What I prefer about Italian food is the simplicity. Fresh ingredients, love and wine (Oh! and amaro for Jean-Felix's digestif). That's all you need! When we were there, every time we were in a grocery store, we were feeling like kids in a toy store. All the products you can find in there, it's unbelievable. I could have spent my entire day shopping for food. They have this amazing way to put some love everywhere and make you feel like you need to buy everything. Them beautiful packaging and all the diversity… OHHH GOD I want to go back now!
Oh … and have you ever tried to translate the name of these Italian pasta in French??? HÉHÉHÉ You will see!
For 4 Persons
Is that weird if I say that Jean-Felix and I always eat the entire recipe??? Yes … we eat for 4 😉
INGREDIENTS:
450 gr Bucatini pasta
¼ cup olive oil
4 anchovy fillets finely chopped
5 cloves of garlic finely chopped
1 can whole Italian tomatoes 796 ml
1/3 cup fresh Italian parsley chopped
25 kalamata olives pitted and cut in two
2 tbsp capers finely chopped
1 tsp dry oregano
1 tbsp brown sugar
½ tsp crushed red pepper flakes
2 tbsp fresh basil roughly chopped
Grated Parmesan for topping
Fine sea salt and ground black pepper
PREPARATION:
In a medium-large skillet, warm the olive oil at medium-low heat and add the garlic and the anchovies. Cook and stir for about 1 minute, just to get the flavour out. Don't golden it.
Add the Italian tomatoes and crush them. Stir and add the parsley, Kalamata olives, capers, oregano, brown sugar and the red pepper flakes. Season with the fine sea salt and black ground pepper.
Stir occasionally and let simmer slowly uncovered at low eat for about 20 to 30 minutes. Most of the time people let simmer only 10 or 15 minutes but I prefer when the sauce is thicker and well reduced. It's way more flavourful.
Meanwhile, in a large pot, bring water to boil with a little amount of olive oil and cook the Bucatini until they are perfectly cooked. They must be al dente. Nothing … and I mean NOTHING is worst then over-cooked pasta. I will repeat myself about that in every pasta recipes I will write for this blog!! LOL When It's done, drain the pasta and return them into the pot.
I always season with a bit of salt, and I put a good amount of olive oil in the pasta. About ¼ of a cup. It's my trick … you can see the notice about it in the Carbonara recipe.
Pour the pasta into the skillet with the Puttanesca sauce, add the fresh basil and stir to combine. Adjust the seasoning.
Serve the Bucatini Alla Puttanesca in beautiful bowls or plates! Sprinkle with the grated Parmesan. And there you are!
I think beautiful plates are important too. Your eyes will always eat before your mouth. You put a lot of time and a whole lot of love into what you do so do not neglect this step. The way you serve your food is a huge part of the appreciation of your experience. Serve yourself as you would like to be served when you go to a restaurant. You deserve it … every day!
Love you!!!
Sefra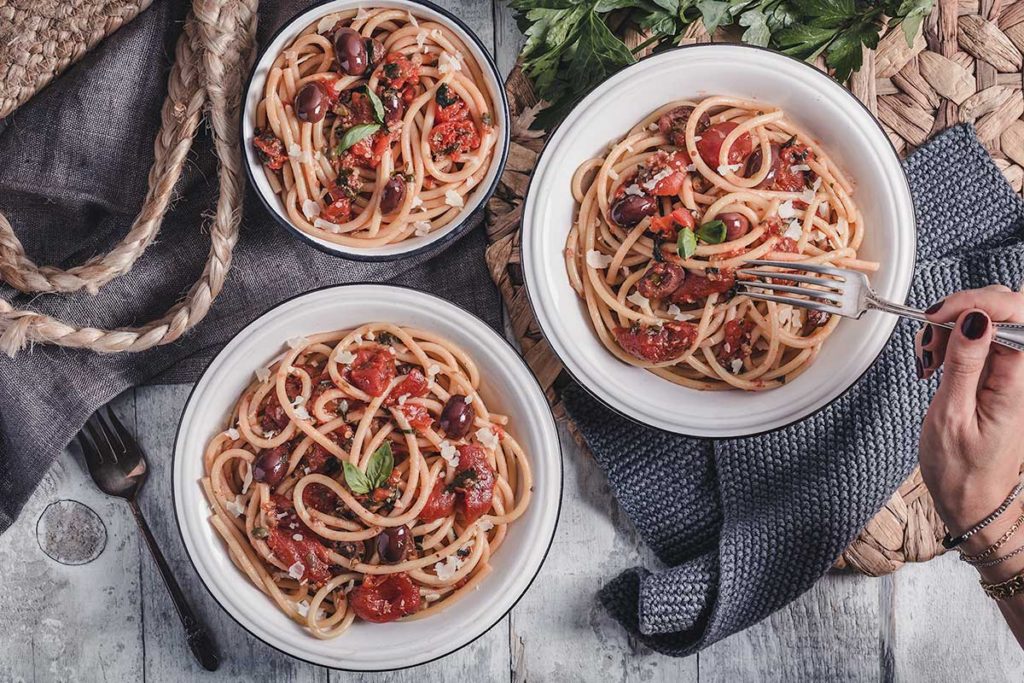 If like me you are addicted to shopping dishware and other kitchen accessories, you will probably like that list below.